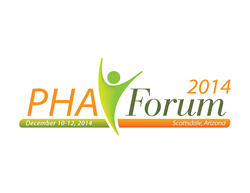 Washington, D.C. (PRWEB) March 10, 2014
The Population Health Alliance, the voice of population health, began accepting presentation proposals for its annual conference, PHA Forum 2014, to be held December 10-12, in Scottsdale, Arizona, with the theme, Collaborate + Communicate = Engage.
The PHA Forum 2014's call for proposals maintains several of the conference's trademarks, such as a juried competition for its prized industry awards that includes a rigorous peer-reviewed process and a no "pay-for-play" pledge. But this year there is a renewed focused on collaborative proposals and interactive presentations with concrete outcomes and takeaways for attendees.
"Every year, the PHA Forum is the crowning event to showcase efforts to advance population health principles by the organization, its members and others industry stakeholders," said Fred Goldstein, PHA Interim Executive Director and Chair of the Board. "This is the annual gathering of those offering innovative approaches and technologies and seeking to implement population health approaches, be they providers, payers, vendors or employers."
The Population Health Alliance was formerly known as Care Continuum Alliance. "The new name acknowledges the growing acceptance of population health management as one of the central strategies employed across the care continuum to improve quality of care while reducing avoidable healthcare costs," said Goldstein. "The PHA Forum 2014 will bring the thought leadership in population health together to share, learn and network."
Building on the success of last year's conference, the PHA Forum 2014 will continue with an open call for proposals, instead of pre-set tracks. Each submission will be peer reviewed by the program committee, which will then curate a program that best responds to the conference focus on collaboration, communication and engagement.
Individuals can submit a proposal for a session in various formats; as well as traditional abstracts for proposals for the 4th International Symposium of Wellness and Chronic Care.
PHA invites its members and all population health stakeholders, researchers, academics, representatives of government entities and others to submit their proposals, online through the PHA Forum 2014, by the deadline, March 26, 2014. Proposals must be original, new and free of commercial content, such as service or product endorsements.
"Judging by the number of inquiries we have received since opening the call for proposals, I can tell that this year will be very competitive," said Goldstein.
As in the last few years, PHA Forum will hold the International Symposium on Wellness and Chronic Care, on Friday, December 12, and is encouraging submissions from organizations and companies from around the world, with a focus on their unique population health strategies.
Learn more about PHA Forum 2014: http://populationhealthalliance.org/2014-03-09-18-47-45/pha-forum-2014
# # #
About the Population Health Alliance
The Population Health Alliance (PHA) is a global trade association of the population health industry. Its more than 80 members represent stakeholders from across the healthcare delivery system that seek to improve health outcomes, optimize medical and administrative spend, and drive affordability. Through its robust advocacy, research and education initiatives, the PHA offers members a forum to advance shared learning and applied research to further innovation and establish best practices in the population health field. Visit http://www.populationhealthalliance.org to learn and get ready to attend the PHA Forum 2014, in Scottsdale, Arizona on December 10-12, 2014.