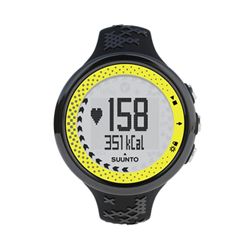 ....my wife uses this monitor and wears it as her everyday watch, too!
Bozeman, MT (PRWEB) March 09, 2014
Suunto M5 has the best large font size heart rate display making ideal for exercise enthusiasts that have near vision challenges, says the Heart Rate Watch Company.
"A lot of people are exercising more these days at age 45-plus and many have near vision problems that require vision correction," says Rusty Squire, President of the Heart Rate Watch Company. He adds, "Extra large font size on the display is important so these folks don't need to wear reading glasses to exercise".
Easy To Read, Comfortable Strap
"M5 comes in three women's styles with narrower bands, my wife uses this monitor and wears it as her everyday watch, too," says Squire. He adds, "What she likes are the style, the large display and she specifically mentioned how comfortable the Suunto Comfort belt is."
Feedback, Accurate Calories and Analysis Software
"Suunto M5 gives nice workout summaries that help you focus your zones on the proper intensity plus the calorie analysis is among the top few heart rate monitors along with Polar," says Squire. He adds, "The mini-Movestick comes with the M5 and transfers your data to Suunto's free online software called Movescount which is great for historical workout comparisons and analyzing your fitness over time."
Great Women's Styles
"Suunto has some great styles for men and women," says Squire. He adds, "This year they specifically came out with a pink and yellow accented bezels for women with great designs and fit."
Two Year Warranty
Suunto has a two year warranty on their products because this is mandated by the European Union and they are a Finnish company, just like Polar.
Complimentary Fitness Books
The Heart Rate Watch Company gives all customers two complimentary fitness books called "How To Successfully Use A Heart Rate Monitor" and "How To Elevate Fitness With Strength and Interval Training". "We are serious about making sure our customers get started right and with sound advice," says Squire.
Call The Experts
"If you would like to talk to real experts that test and use the products they sell then simply call us toll-free at 866-586-7129," says Squire.