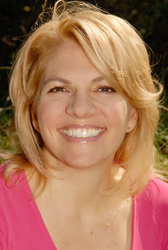 What I would like to explore in each show/topic is how to apply sage wisdom and lifestyle guidance in a very down to earth and user-friendly way.
(PRWEB) March 11, 2014
Integrated Health Yoga Therapy founder and director Karen Claffey's new A2Zen.fm internet radio show, Integrated Health 4 You (http://www.ih4y.com/), draws on Karen's varied experience in holistic health, yoga therapy, and TV and radio hosting, as she interviews leaders in their field on a wide range of health topics with the aim of integrating their sage wisdom and expertise with audience members' own wisdom, passion, and curiosity to create a true community event.
"I hope to reach a wide audience - all ages, all lifestyles, although I imagine those interested will have a propensity towards being on a path of health and conscious living," Karen explains. "Mostly I welcome the opportunity to have people call in to ask questions, share their stories and make it a community show. I hope our audience will become co-creators in the sense that we all have wisdom to share."
Karen Claffey (http://a2zen.fm/profile/KarenClaffeyIH4Y) has been practicing yoga since 1995, teaching it full-time since 2000, and certifying yoga teachers since 2002. The founder and director of both Integrated Health Yoga Therapy (http://www.ihyt.org/) and Heaven on Earth Yoga Institute (http://www.heavenstudio.ca/), she is a certified Anusara yoga instructor and yoga therapist specializing in Structural Alignment Therapy as well as a shiatsu and Thai yoga massage practitioner. Karen is also a macrobiotic chef/cooking teacher and holistic health consultant.
Karen's path to yoga is perhaps not a conventional one in the sense that for a long time she was a reluctant apprentice. Her mother introduced her to yoga at age 12, but then a fairly typical teenage-hood interceded, until finally, in her words, "it was again at the age of 24 when I needed to heal myself that I turned to a path of health and healing - out of necessity and out of my soul calling for a more peaceful and authentic path that matched my life's purpose."
Initially that path involved aerobics and fitness and a nutrition regime. She then discovered macrobiotics in 1984, which led her to the Kushi Institute in Massachusetts where she became involved in the work-study exchange program. "Macrobiotics proved to be the key to my healing from the inside out - not only the diet but also the philosophy." At the Kushi Institute she was exposed to elements of yoga and even bought a book on it but no real practice solidified. Following time spent backpacking in India, Karen supported herself as a shiatsu massage practitioner and macrobiotic cooking teacher/health consultant in Montreal. In 1995 she finally opened that book and based a long-term yoga practice upon it. In April 2000 her fitness instructor, David Snively, had to miss 2 weeks taping his TV show Caribbean Workout for TSN. Rather than cancel yoga classes, a co-student suggested that Karen sub in. She then began to sub around Montreal and within 5 months was teaching 24 classes full-time. Karen recognized this new path as her calling and committed to it by completing several yoga teacher and yoga therapist certifications.
"For me the higher teaching is taking yoga off the mat and into the world, seeing the big picture, being sensitive to how my food choices and lifestyle choices affect our planet, and will affect future generations. I question, what legacy am I leaving behind?"
Thanks to Karen Claffey's many connections in the alternative/holistic health world, Integrated Health4 You will feature a wide range of experts in disciplines and fields such as Ayurveda, macrobiotics, naturopathy, pregnancy and birth preparation, and yoga therapy for grief, depression, pain, trauma, addiction, and more. The list of guests at http://www.ih4y.com/#!shows/c23p8 reveals an impressive and intriguing variety and quality of experts, beginning with Antonio Sausys and Grief as a Path Toward Knowledge and Self-Transformation in Karen's first show from 5 to 6 pm on Wednesday March 12 (http://a2zen.fm/events/grief-as-a-path-towards-self-knowledge-transformation).
"What I would like to explore in each show/topic is how to apply sage wisdom and lifestyle guidance in a very down to earth and user-friendly way," Karen explains. "I want to delve deep into these topics, and really get into the core of the issues."
If you enjoy Integrated Health 4 You on A2Zen.fm and are interested in learning more from Karen Claffey and some of the other experts featured in her interviews, check out our Integrated Health Yoga Therapy program list at http://www.ihyt.org/#!programs/cnnj.
About Integrated Health Yoga Therapy
IHYT is a yoga therapy school for a wide range of health professionals whose practices might benefit from the skill-sets and philosophy underlying therapeutic yoga. Yoga therapy is becoming more and more recognized and utilized by the medical-scientific community as a safe and effective complementary therapy and treatment in a wide range of conditions. IHYT offers a carefully selected curriculum of evidence-based educational programs taught by faculty who are leaders in their respective fields, as outlined on our website at http://www.ihyt.org/.