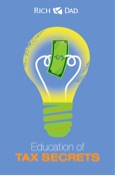 'Education of Tax Secrets' provides the reader with an unfair tax advantage.
Scottsdale, AZ (PRWEB) March 10, 2014
The Rich Dad Company offers The Education of Tax Secrets ebook for free.
The Education of Tax Secrets is an ebook by Robert Kiyosaki written to teach how, with the right mindset and financial education, anyone can use taxes to their advantage. This book explains how governments write the tax codes to incentivize investors and entrepreneurs to behave how the government wants them to. This ebook teaches how to use taxes to guide investment decisions.
Most people will find the idea of using taxes as an advantage absurd, or impossible. Today, taxes are killing many people financially. Many look at their paychecks every month and wonder where all the money is going? It's going to the people who know how to use taxes to make money rather than lose money; it's going to the financially educated. Robert shares this knowledge free.
Robert Kiyosaki, the ebook's author, and author of the best-seller Rich Dad Poor Dad, says, "I see taxes as government incentives and economic stimulus to keep the wheels of the economy greased and moving. That is how my rich dad saw taxes. He simply saw himself doing what the government wanted done, and in return, the government offered him tax breaks." Anyone can use the tax code as an advantage to help make money—or at the very least, greatly reduce the tax burden. All one needs know are the rules and how to play by them. This ebook will show you how.
"Average Americans today work five to six months for the government just to cover their taxes. In my opinion, that is simply too long. The harder you work, the more you pay the government," says Robert. The Tax Code of the United States also allows other ways to reduce taxes. Most of these ways are available to anyone, but it is the rich who find them because they have studied these tax secrets. Now "you" will know them too.
In addition to The Education of Tax Secrets ebook for free at richdad.com, you can:

Listen to Robert Kiyosaki's "The Rich Dad Radio Show" online at any time;
Play CASHFLOW the Web Game at no charge. Its like "Monopoly on Steroids" – USA Today;
Get exclusive insights via Rich Dad's monthly, eNewsletter packed with content related to investment, finance, small business ideas, and more.
About The Rich Dad Company
The Rich Dad Company was founded in 1997 and is based on Robert Kiyosaki's international best-seller and #1 personal finance book of all time, Rich Dad Poor Dad. Using innovative technology, The Rich Dad Company offers a new way to think about money. Content is delivered via mobile apps, live stream global events, social media, books, seminars, videos, the CASHFLOW® board and Web game, blogs and much more. Visit http://www.richdad.com or call us at 800-308-3585, 480-998-6971 outside of the U.S., to begin your journey to financial success.