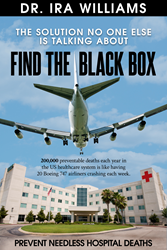 "Changing how to pay for healthcare does not make that broken system safer"
Greenville, SC (PRWEB) March 11, 2014
Dr. Williams says "Healthcare is NOT ObamaCare, RomneyCare, ClintonCare, Medicare, Medicaid, or all other methods for how to pay for healthcare after-the-fact. Healthcare is defined as a person (patient) seeking medical care for an injury or illness. Economist Casey Mulligan, in a WSJ Op-Ed (http://is.gd/kQzZ1u) titled 'The Economist Who Exposed ObamaCare' warned of the negative impact the Affordable Care Act would create economically." But Dr. Williams talks of a far different negative impact from that new Law regarding patient safety.
Dr. Williams says "Assume a miracle, someone has discovered a perfect way for how to pay for healthcare after-the-fact. The entire healthcare delivery system would still remain in its current, unorganized, dysfunctional, and far too often, needlessly deadly structure. Furthermore, there are clearly evident reasons why that system is so highly flawed, and those reasons continue to be unrecognized, or ignored."
"Furthermore," Dr. Williams continues, "everyone needs to understand that their, their children's, and their grandchildren's healthcare delivery system is, and has always been broken. Medical errors are the third leading cause of accidental deaths, and the Affordable Care Act will, if anything, make that dire situation worst, not better."
In this Open Letter (http://is.gd/wdU2CM) Dr. Williams says, "people must recognize when a system is not truly a system, and why two of the most important patient safety measures discovered over a century ago continue to haunt every effort of patient care in every hospital." He closes this letter with an attempt to summarize the current healthcare delivery system problems.