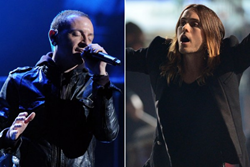 Denver, Colorado (PRWEB) March 10, 2014
Multi-platinum rock groups Linkin Park and 30 Seconds to Mars will be co-headlining the Carnivores Tour and are bringing along special guest AFI. The tour will kick off on August 8 in West Palm Beach, Florida, and will span across North America until mid-September.
The tour has been called 'Carnivores' for reasons explained by Linkin Park's Mike Shinoda, "Carnivores is a metaphor that is meant to convey an appetite for something visceral and substantive, and I feel that's exactly the hunger this tour will feed."
The 25-city trek is set to start with a five night run at the Cruzan Amphitheatre in West Palm Beach, Florida, and will hit a number of major markets. Tampa, Charlotte, Camden, Mansfield, Holmdel, Wantagh, Darien Center, Montreal, Toronto, St. Paul, Tinley Park, Clarkston, Houston, Denver, Phoenix and Quincy are on the current schedule, as well as five stops in California where the tour will close on September 19 at the Concord Pavilion in Concord.
"Carnivores Tour tickets are trending at the top of concert ticket tallies across the country," said Marta Ault at online ticket marketplace BuyAnySeat.com.
"That's why we're proud to offer fans the most comprehensive and continuously refreshed listing of concert tickets online, with a worry-free guarantee to protect their purchase," added Ault.
"To shop all of the Carnivores Tour tickets now available, fans can go to BuyAnySeat.com and search for the Carnivores Tour – then select their tickets."
The tour announcement came less than a week after 30 Seconds to Mars' front man and lead singer Jared Leto won the Best Supporting Actor award at the Oscars. Leto provided one of the most interesting speeches of the night to cap an award season of triumphs for his role in "Dallas Buyers Club".
The news also came shortly after Linkin Park and Jay-Z jointly announced that they would re-issue their 2004 album "Collision Course" in honor of its 10th anniversary. The release of that album is set for April 19, 2014.
Rock fans have had an appetite for Linkin Park for nearly two decades. After forming in 1996, the band rose to international fame with their debut album Hybrid Theory, which was certified Diamond by the RIAA in 2005.Their next studio album Meteora topped the Billboard 200 album chart in 2003. To date, Linkin Park has sold over 60 million albums worldwide and won two Grammy Awards.
Thirty Seconds to Mars will be supporting their most recent release, 2013's "Love, Lust, Faith and Dreams". That album, the band's fourth, peaked at Number Six on The Billboard 200. The band achieved worldwide fame in 2005 with the release of their second album A Beautiful Lie, which received multiple certifications all over the world, including platinum in the United States.
The special guest for the tour will be AFI. The band formed in 1991 but did not enjoy its first major commercial success until 2003's Sing the Sorrow reached Number Five on the Billboard 200, and remained there for 51 weeks. AFI's 2006 album December- underground, was certified Double Platinum by the RIAA in 2013. The band is currently touring in support of their 2013 album Burials.
To shop for Carnivores Tour tickets, visit BuyAnySeat.com.
About BuyAnySeat.com: An online ticket marketplace, BuyAnySeat.com connects sports, theater and other live entertainment fans to an extensive worldwide network of ticket sellers. The site's simplified listings and navigational tools enable fans to easily locate, compare and purchase inexpensive, discounted or lower-priced tickets to virtually all advertised sports and entertainment events around the globe.
The marketplace, which is PCI-compliant and Norton Secured, also provides customers with a complete Worry-Free Guarantee on all ticket purchases. Based in Denver, Colorado, BuyAnySeat.com is a subsidiary of Denver Media Holdings. For more information, please visit http://buyanyseat.com.