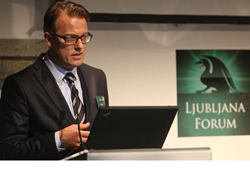 How well and how quickly European businesses adopt digital technologies will be a key determinant of growth in future years.
(PRWEB) March 11, 2014
According to the EC report IP/14/145, Europeans making apps added €17.5 billion to the economy and nearly 2 million jobs in 2013 and the EC plans to make this grow to €63 billion and 4.8 billion jobs by 2018. To make this and other cyber-related economic growth happen, the EC has initiated the European Strategic Policy Forum on Digital Entrepreneurship. eGovernance pioneer in Eastern Europe, Blaž Golob will bring his experience in assisting information society programs in South-East Europe and that of his work with The Millennium Project to improve digital entrepreneurship in Europe.
According to the EU report technology leaders, global corporations, SMEs, trade unions and civil society representatives, policy makers, universities and digital entrepreneurs, have joined the European Commission in a new initiative to nurture Digital Entrepreneurship in Europe.
The Director General for Enterprise and Industry of the European Commission invited 40 experts to support the development of policies and initiatives to enhance Digital Entrepreneurship in Europe. The first meeting of the European Strategic Forum on Digital Entrepreneurship took place at the Albert Borschette Conference Centre on Friday 28th February 2014.
Digital technologies hold the potential for creating new added value to EU companies and can facilitate business transformation and enable opportunities for re-location of industry in Europe. "How well and how quickly European businesses adopt digital technologies will be a key determinant of growth in future years," notes Mr. Blaž Golob, Director of GFS Institute, member of the Forum.
The key objectives of the Forum are to:

Reinforce the dialogue among business, science, trade unions, civil society and public authorities, with the aim of shaping an EU ambitious vision, a short and long-term strategy on Digital entrepreneurship and concrete actions to its implementation;
Advise the Commission on key policy issues and actions to support business transformation and offer, in particular to European SMEs, new opportunities and a leading place in the modern digital economy;
Promote the development of Digital Entrepreneurship policies by Member States at national, regional and city level, by improving awareness on the potential impact of digital technologies in businesses, as well as on relevant policy initiatives and public-private partnerships in the EU and main international partners.
The Strategic Forum will be led by a Board steered by a President, Mr. John Higgins (Digital Europe, Director General), and two Vice-Presidents, Mrs. Irène Braam (Bertelsmann, VP of Government Relations) and Mr. António Murta (PATHENA, Managing Partner and Co-Founder).
"The Millennium Project looks forward to supporting Blaž Golob's work with the European Strategic Forum on Digital Entrepreneurship and sharing insights from its experience in creating the world's first Global Futures Intelligence System," says Jerome Glenn, CEO of The Millennium Project.
The Millennium Project is a global participatory think tank connecting 50 Nodes around the world that identify important long-range challenges and strategies, and initiate and conduct foresight studies, workshops, symposiums, and advanced training. Some 5,000 futurists, scholars, business planners, and policy makers who work for international organizations, governments, corporations, NGOs, and universities have participated in The Millennium Project's research since its inception, in 1996. The Project's mission is to improve thinking about the future and make it available through a variety of media for feedback to accumulate wisdom about the future for better decisions today. It produces the annual "State of the Future" reports, the "Futures Research Methodology" series, the Global Futures Intelligence System (GFIS), and special studies. The Millennium Project was selected among the top ten think tanks in the world for new ideas and paradigms by the 2013 University of Pennsylvania's GoTo Think Tank Index, and 2012 Computerworld Honors Laureate for its contributions to collective intelligence systems. The launch of the "2013-14 State of the Future" will be webcast from the Woodrow Wilson Center, March 20, 2014.