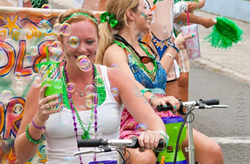 We took just 146 steps from start to finish.
Coral Bay St. John, US Virgin Islands (PRWEB) March 10, 2014
At just under 100 yards, the annual St. Patrick's Day parade on the small island of St. John claims to be the shortest in the world. The popular, yet brief following begins at the Cruz Bay Fire Station and ends just a couple hundred steps away at the infamous Quiet Mon pub. A fitting finish for the hundreds who don just about anything that's green.
While the parade may lack distance, it doesn't slack on spirit. Beard-wearing, bubble blowing leprechauns of all ages walk, bike and hoop one short block to the bustling bar. The Quiet Mon pub is a flurry of activity all day, from the early hours to late in the evening.
Local photographer Gregg Jones captured the spirit of the 2013 parade, reflecting the quirky nature of this fun-loving island.
This year's Patrick's Day Parade is scheduled for Saturday, March 15th at 11am. Bring on your green and celebrate St. Patrick's Day in Love City style!
About Windspree Vacation Homes
For over 30 years, Windspree Vacation Homes has rented and managed vacation villas in and around Coral Bay, St. John. Coral Bay is a small peaceful hamlet on St. John island's east side and convenient to the Virgin Islands National Park, where many of St. John's best beaches and hiking trails are located.