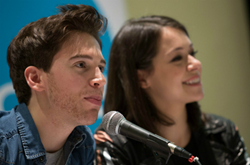 'The coolest thing is how the characters are going to change. You think you know, but you don't know.' - Jordan Gavaris
(PRWEB) March 10, 2014
TVRage.com's Senior Writer Anthony Marcusa recently attended Toronto ComiCon 2014, where he was able to learn more about the upcoming second season of 'Orphan Black' directly from Tatiana Maslany and Jordan Gavaris.
Here's an excerpt from the panel:
"Season 1 was conception; Season 2 was evolution," Gavaris declared ominously. "We kind of worked our way back into [Season 2] and tried really hard to approach it the way we did the first season and pretend no one is watching and push the envelope."
Creator Graeme Manson, who was in the first row when the panel began, was soon invited on stage, and like Gavaris, he hinted at the exciting and scary potential.
Since Maslany plays several characters on the show, and as the narrative has shifted slightly – where it was once just Sarah, it is now several clones whose lives are explored in depth – Manson was asked if there was a chance one of the clones generally, and Sarah, specifically, could be killed off.
"Yes," Manson said with the look of someone full of power and secrets. After a collective gasp from the audience, he added, "Sort of."
So there is that world for fans to contemplate (the most popular character at the expo seemed to be Cosima, with Sarah a strong second, and an Alison or two). Felix's role looks to expand as well, and Gavaris offered some thoughts on where his character will be going."
'Orphan Black' Season 2 premieres April 19 on Space and BBC America.