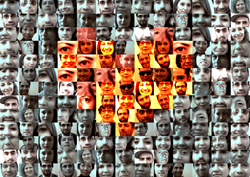 The I Love You Project celebrates diversity.
Almeria, Spain (PRWEB) March 11, 2014
BORDERLAND – The Entropy of Identities international video art screening will be held in Almeria (Spain) at Museo de Almería on the 13th of March 2014 and at MECA Mediterráneo Centro Artístico on the 27th of March 2014; and in Granada (Spain) at the Faculty of Fine Arts of the University of Granada, on the 23rd of April 2014. Forty-six artists have been selected to take part in the exhibition organized by International ArtExpo.
New York visual artist Debbie Davies' video-art for The I Love You Project is part of the selection. The project's videos from Barcelona, Spain and Hessen, Germany will be on view on all three event dates.
The I Love You Project is a global social art initiative founded by Davies. The purpose of the project is to celebrate diversity and share intentions of peace, acceptance, and love across cultures. Participants are videotaped using a digital microscope saying "I Love You" in their native language. These moody images, along with photos and voice recordings are combined with original music by Julius Schön to create a multi-media installation. Video editors Kendall Smith and Santina Amato worked on the two videos with Davies. The experience participants share - saying "I Love You" into the camera - exemplifies the healing power of this phrase. This interaction creates a connection between participants, the photographer, and strangers. The message of love reverberates through the images and voices of people of different ethnicities and religions.
International ArtExpo is an art organization that provides a significant forum for cultural dialogue between all artists from different cultures and countries. These Spain video-art exhibitions revolve around the theme of Entropy. Entropy is conceptually defined as the measure of the level of disorder in a changing system. Starting from this fascinating concept, each person can be considered as a changing system, as the same as for a specific culture, city or country, until the whole universe. All these systems are subjected to a process of continuous inner evolution which overcome their own boundaries to contaminate and crossbreed each others.