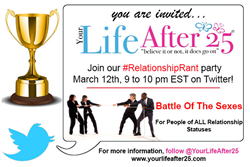 "Failure to understand the opposite sex has been the most common issue among our guests"
Atlanta, GA (PRWEB) March 10, 2014
Battling the opposite sex is practically a tradition that begins at childhood. Differences in personalities, habits and feelings have created utter confusion, and even frustration between genders. Let's face it – relating to the opposed gender may be near impossible, but understanding them is something that many people yearn.
Your Life After 25, a women's blogazine working to entertain, educate and empower, is inviting men and women to finally get some answers to understand each other at the Battle of the Sexes #RelationshipRant Twitter party on Wednesday, March 12 from 9 – 10 p.m.
The popular online event hosted by Da Vinci, founder of Your Life After 25, is expected to attract more than 100 men and women (ages 25 and older) of any relationship status. Participants can submit questions in advance by tweeting them to @YourLifeAfter25 by Tuesday, March 11.
"Failure to understand the opposite sex has been the most common issue among our guests," said Da Vinci, founder of Your Life After 25. "I wanted to address it by giving men and women a chance to 'battle it out' with direct access to each other. My ultimate goal is that they will learn some valuable tips for a successful relationship – whether it's now or in the future."
Participants can win a $25 Amazon gift card by registering in advance here.
Remember to follow @YourLifeAfter25 and use the hashtag #RelationshipRant during the Twitter party.
About Your Life After 25
YourLifeAfter25.com (YLA25.com) is a lifestyle and women's blogazine working to "Entertain – Educate – Empower." Its mission is to assist women to get rid of the old expectations of who you should be by the age of 25 and celebrate who you will be after 25. Your Life After 25 is about living life to the fullest when society makes one think and feel like it's all downhill from there. Your Life After 25 covers many topics from women's issues, relationships, fashion, food, women in business, and causes like rape/domestic violence and suicide prevention awareness.  
Founder Da Vinci, who has also been a featured blogger for Blogads, and Co-owner Dante Trimble, are currently working on events and launching more exciting YLA25 projects.
For more information, please visit http://www.yourlifeafter25.com
Follow us on Twitter, Facebook, Pinterest and Instagram @YourLifeAfter25.