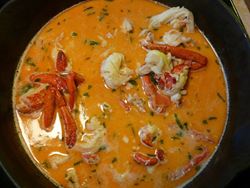 (PRWEB) March 10, 2014
St. Patrick's Day arrives on March 17th, and GetMaineLobster.com is helping celebrators maximize the merrymaking by gathering a special selection of 13 delicious and easy-to-make seafood recipes. These lucky charms are worthy of pursuit! Here is a preview to whet the appetite:
Get Maine Lobster Maple Whiskey Grilled Lobster Tails
In this recipe, the natural sweetness of lobster is complemented by the maple flavor and the smokiness within the whiskey.
Ingredients for the lobster component include: frozen Maine Lobster Tails, thawed – 4 5–6 oz tails; Cabin Fever Maple Whiskey, 2 oz; extra virgin olive oil, 2 Tbsp; salt to taste.
Ingredients for the Maple Whiskey Sauce include Cabin Fever Maple Whiskey, ½ cup (If Cabin Fever cannot be found, use any whiskey and add ¼ cup maple syrup); cider vinegar, 1 Tbsp; butter, cubed: 6 – 8 oz; salt & pepper to taste.
To prepare the sauce: In a small pot add whiskey (or whiskey and maple) and vinegar. Reduce by half over medium heat. Remove from the heat and slowly whiskey in butter a cube at a time and make sure each cube is emulsified in before adding another one in. Continue until all of the butter is used and the sauce is smooth and creamy. Season with salt and freshly ground black pepper and hold warm. This can be made 15-20 minutes before but shouldn't be cooled and reheated.
To prepare the Maine Lobster Tails, first heat your grill to high. Split the thawed Maine lobster tails in half and rub with olive oil. Season them with salt and freshly ground black pepper. Place tails on the grill shell side down and cook for 8 minutes until the meat has become opaque and firmed up a little bit to the touch. During the cooking process brush with whiskey to build flavor. Serve the tails with Maple Whiskey Butter as a dipping sauce or pour the sauce over the tails.
Another delectable recipe:
Guinness and Lobster Risotto
GML Chef Mac Arrington has taken a classic dish and reinvented it by building bold lobster flavors with the sweet Guinness. This recipe takes one hour to make and serves 8.
Ingredients include: Lobster meat, claw knuckle, cooked, ½ lb; Olive oil, 3 Tbsp; 2 shallot, minced; 2 cloves, garlic, minced; white button mushrooms, sliced, 1 cup; Arborio rice, 1 ½ lbs; Guinness draught, ½ cup; Lobster stock (recipe on site) or chicken stock, hot, 6 cups; fresh parsley, chopped, ½ cup; 1 lemon, zested and juiced; Pecorino Romano, grated, ½ cup; salt and pepper to taste.
To prepare, heat olive oil in a large pan over medium high heat. Add in shallots and begin to sweat until they become translucent and aromatic, about 2 minutes. Add in garlic and quickly sweat for 1 minute. Add in rice and mushrooms and stir together and cook for another 3 minutes.
Deglaze with Guinness and cook until the rice absorbs all of the liquid. Add in stock 1 cup at a time and cook until each cup is absorbed. Repeat this process until all of the stock is used and the rice has plumped and become soft, or fully cooked. This should take around 20 minutes. Toss in lobster meat and cook for 2-3 minutes until the meat is warm. Add a squeeze of lemon juice and season to taste. Finish with lemon zest, herbs and top with grated cheese. Serve family style!
To find 11 more ideas for St. Paddy's Day fare, visit GetMaineLobster.com.
About GetMaineLobster.com
GetMaineLobster.com, a division of Black Point Seafood and Black Point Gourmet, hand-selects the finest Maine lobster, seafood and beef products for convenient distribution throughout the United States. Their passion is to make fresh, quality seafood readily available to customers across the country, which is why they buy from only the most trusted, well-established suppliers to ensure that they receive the finest products available.
GetMaineLobster.com was selected out of the more than four million small American businesses served by Chase bank to represent its new Platinum Business Checking product for its 2013 national advertising campaign.