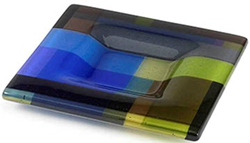 Without Tim Ferriss and his "Hacking Kickstarter" blog post, outlining the Kickstarter process and success of Mike Del Ponte and Zach Allia of Soma, I wouldn't have been able to create such a solid project on my own
New York, NY (PRWEB) March 11, 2014
Scott has been fascinated with custom design and mass customization since he studied industrial design at Pratt Institute in Brooklyn. He has been developing a web-based tool that enables him and his clients to collaborate on custom glass designs in real-time. Scott thinks this may be the first tool of its kind. In a recent interview Scott stated, "My favorite part of the design process is working with my clients on new designs. Many clients are very talented and often have a strong sense of color and proportion but they don't have the formal training to effectively communicate a design. This tool closes the gap and allows them to create a 3-D design exactly as they envision it. And the best part for me is that I get to produce it and deliver it to them very quickly." To check out Scott's custom-design tool and his Kickstarter project, click this link: http://kck.st/MXysIJ
Scott has been a fan of Kickstarter and crowdfunding for years and knew one day the opportunity to create his own Kickstarter would present itself. The willingness to share and the overall integrity and trust he senses is present in social media, specifically Kickstarter, really inspires him.
Scott said, "Without Tim Ferriss and his "Hacking Kickstarter" blog post, outlining the Kickstarter process and success of Mike Del Ponte and Zach Allia of Soma, I wouldn't have been able to create such a solid project on my own. They shared their step-by-step process with everyone. And the team at unbounce.com taught me how to create awesome landing pages for free. I am really grateful to all of them. If my project succeeds, I will have many people to thank for it." To check out Scott's Kickstarter project click this link: http://kck.st/MXysIJ
Scott believes in the process of giving back. "I am really excited to share my custom design tool for free, with everyone, as soon as it is ready" Scott stated. "Plus, I hope to work with NYC public schools to create a program that uses this tool to help children learn in a more tangible way." If you would like to get a glimpse of the custom design tool and listen to Scott explain it please visit his project here: http://kck.st/MXysIJ.