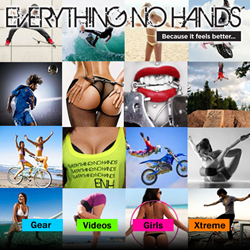 San Diego, CA (PRWEB) March 09, 2014
So, it turned out that the hoverboard "invented" earlier this year was a hoax. While that left millions of people disappointed, a new photo gallery from EverythingNoHands.com will have people believing in boards that can fly again. The new pictures features dozens of the best snowboard stunts, and the hottest snowboard babes, do their thing in true Everything No Hands style.
The new picture gallery, titled "Why Carve The Mountain When You Can Fly First Class?", features 26 of the best snow boarding photos ever captured. With extreme jumps off mountains, snowboard jumps and kickers, over pine trees and fellow snowboarders leisurely sunning themselves as if the frozen snow was blistering hot sand on a tropical beach, and lovely ladies who know snowboarding boots and bikinis are the perfect fashion pairing, these pictures have the perfect combination of awesome, fun, crazy, sexy dare devilry that makes EverythingNoHand.com the interesting website that it is.
The fun new gallery is just one of the many which have been uploaded since the launch of the ENH site earlier this year. EverythingNoHands.com features pictures, videos and merchandise that all impart the crazy, sexy, daredevil essence of Everything No hands. With new content being uploaded nearly every day, the website is the perfect place for those who are fans of wing suit flights, motocross, vertical pole, skate boarding, handcuffs and more! Those who want even more fun can join Everything No Hands' Facebook page.
Visitors to Everything No Hands are also encouraged to sign up for the website's mailing list and make an account. This will give them free updates on any new content on the website, as well as give them access to exclusive offers from the ENH store, customized content and more. The website also encourages involvement with the content of the website, by encouraging Everything No Hands account holders to submit their own pictures and videos, either by uploading them directly to the website or emailing them in.
To view ENH's awesome new picture gallery, click here, or visit EverythingNoHands.com to check out more photos and videos and browse through the Everything No Hands shop.