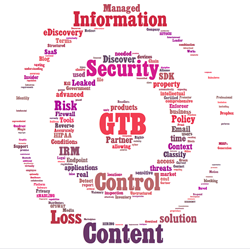 Unlike others, our DLP system actually works and prevents breaches from occurring
Newport Beach, CA (PRWEB) March 10, 2014
Once again Gartner Visionary, GTB Technologies raises the bar for the rest of the Data Protection / DLP market place. It's not news that major data breaches are occurring at an exponential rate. Based on current public information*, it's likely the infamous Target breach's point of attack was from Malware through POS devices. GTB's new release includes features and capabilities that, would have most certainly prevented these type of breaches from occurring.
With this latest release, GTB's Advanced Protection DLP Suite is the only system capable of inspecting and accurately detecting un-authorized transmissions from the endpoint, (such as PCI violations on POS systems), alerting administrators and preventing a breach as soon as the violation occurs. Such violations can be detected even if the data is SSL encrypted, either online or offline.
"With the apparent failure of IDS, network behavioral analysis, malware detection tools and stale market leading DLP systems; organizations must adopt new technologies faster than Hackers do. GTB's advanced data protection solutions provide such powerful technologies which really do secure against unauthorized transmissions from Malware, Viruses and Frenemies." says Uzi Yair, GTB CEO. "Unlike others, our DLP system actually works and prevents breaches from occurring."
Whether it be on premise, via the endpoint, data discovery & classification, off premise or in the cloud, GTB's Advanced Data Protection / DLP solutions allows an organization to know where its data is, who is accessing its data, from where and to whom its data is being sent to and most importantly, stop the data in its tracks. Contact us to see why so many are trading up to GTB DLP.
GTB Technologies Advanced Data Protection DLP system will be on display and presented this week during the following conferences in Singapore:
March 11 -12, 2014 Healthcare Innovation Summit Asia 2014
March 13, 2014 The CIO Asia Conference & Award 2014
About GTB Technologies Inc.:
With offices worldwide, GTB Technologies Inc. has re-invented the enterprise extrusion / data loss (leak) prevention marketplace; bringing a broad set of influential innovations such as solving the known market limitation of false positives & BYOC ("Bring your own Cloud") Problem. GTB customers' include enterprises across the Global 1000 in sectors such as financial services, healthcare, defense contractors, power and energy, telecommunications, retail, and high-tech, as well as government agencies around the world in defense, homeland security, law enforcement, and intelligence.
Enterprises with Data Loss Prevention initiatives whom have an interest in evaluating the GTB DLP/Extrusion Prevention suite can sign up for a free 30 day evaluation at http://www.gtbtechnologies.com/support_evaluation_dlp_downloads.asp GTB also provides Managed Data Protection Services.
The "Goof Proof Guide to Data Loss Prevention", "Returning the 'P' back into DLP", "Reverse Content-Aware Firewall", "AccuMatch", and "GTB Inspector", "Inspector Cloud, "Taking the 'P' into the Stratosphere", "Got Malware? Now What?" "It's 10 PM, do you know where your Salesforce Data is?" and "Data Loss Prevention that actually works" are trademarks, service marks or registered trademarks / service marks of GTB Technologies, Inc., in the United States and/or in other countries.
All other brands, products, or service names are or may be trademarks or service marks of, and are used to identify products or services and are the property, of their respective owners and no affiliation with or endorsement, sponsorship or support is implied
*InformationWeek; December 21, 2013; http://www.informationweek.com/security/attacks-and-breaches/target-breach-10-facts/d/d-id/1113228
Copyright 2014 GTB Technologies, Inc. All Rights Reserved