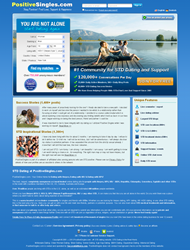 Los Angeles (PRWEB) March 11, 2014
The leading source of support and romance for people with sexually transmitted diseases, PositiveSingles, has released the results of its latest site news. The popular website asked its members to reveal how they treat pelvic Inflammatory disease (PID) at home. The members shared their home remedies and the experts at PositiveSingles compiled the information.
Whether women are experiencing symptoms and know that they have an infection, chlamydia can case pelvic inflammatory disease. This progression can lead to permanent damage to the woman's reproductive organs. This damage may lead to ectopic pregnancy and infertility. Besides taking antibiotics, many members also use home remedies to complement the prescriptions.
The results of the PositiveSingles survey show that 47.42 percent of members recommend eating more foods with a high amount of beta-carotene. These foods include pumpkins, spinach and mangoes. Beta-carotene can strengthen the cervical cells to prevent infection. Another 36.32 percent of the members who participated in the survey suggested that people should ingest more garlic, which is a natural antibiotic. Garlic contains allicin, which helps to prevent the PID symptoms to progress. An additional 16.26 percent of members reported taking Chinese gentian root tea. This herbal tea is popular in China to reduce pain. It has also been found to decrease, or completely eliminate, the uncomfortable vaginal discharge that often accompanies pelvic inflammatory disease.