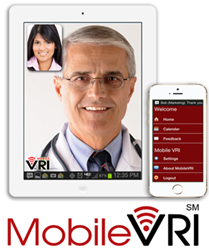 The impact that MobileVRI video on tablets and smart phones will have on language interpretation cannot be underestimated.
Las Vegas, NV (PRWEB) March 11, 2014
Organizations and individuals will soon have face-to-face interpreters, when and where they need them, over iPads and iPhones on live video, with the coming launch in early April of MobileVRI (Mobile Video Remote Interpretation).
The mobile video system is designed for agencies that already provide interpreters to organizations, such as insurance companies, health care providers, courts and law firms, and government services agencies that rely on interpreters. It enables agencies to provide remote video interpreters over iPads and iPhones without having to make a sizeable investment in expensive technology or specialized equipment.
MobileVRI runs on Apple mobile devices with a front facing camera. The MobileVRI App is available on Apple's App Store. Agencies register for the service at MobileVRI.com.
"We selected Apple iOS to produce one of the industry's first on-demand native mobile technologies because of its stability and consistency across all hardware configurations," says Uttam Shah, MobileVRI's Chief Technology Officer. "We have an enterprise grade solution for companies, governments and institutions, with ease of use and accessibility of service."
HOW MobileVRI IS USED
Organizations and interpreters install the MobileVRI app on their Wi-Fi or 4G connected iPads. When interpreters are needed, organizations contact the interpreting agency over their iPads to connect with the appropriate interpreters. Session recordings and automated billing may also be handled on the MobileVRI system.
"The impact that MobileVRI video on tablets and smart phones will have on language interpretation cannot be underestimated," says Mr. Shah. "Compared to bulky laptop systems and computer carts, currently in use for older Remote Video Interpretation platforms, MobileVRI's tablet solution is considerably less costly, more portable, easier to use and less obtrusive. "It's a win-win-win for Agencies that provide interpreters, the interpreters and the organizations that use them."
ORGANIZATIONS
Organizations such as hospitals, law offices, insurance companies, and government agencies will be able to access an interpreter anytime, anywhere on a tablet without having to schedule days in advance. They will no longer have to pay for cancellation fees or hourly minimums when physical travel to onsite interpreting is not required. Nor will organizations worry about rescheduling if an interpreter misses an appointment since MobileVRI enables agencies to provide on-demand backup interpreters.
INTERPRETERS
Interpreters will be able to work remotely and avoid travel time and expense. With no time wasted on travel and traffic delays, interpreters will have more hours available for more assignments. This will enable agencies to have a considerably larger pool of interpreters for a wider range of languages.
AGENCIES:
Interpretation Agencies will be able to schedule and connect mobile video interpreters on demand without having to invest in expensive technology and a video network. Since many of its interpreters will no longer have to physically travel to clients, geography will not limit agency growth. Agencies will be able to handle more assignments and offer additional services, such as video recordings of each session.
MobileVRI SYSTEM REQUIREMENTS
The MobileVRI runs on all Apple mobile devices that support front facing video. This includes the iPad from version 2, iPhone 4 and 5 series, and the iPad mini. Wi-Fi (Internet) and 4G are required. Android and Windows solutions are in development.
ABOUT MobileVRI
MobileVRI was developed by GoldPost Technologies, a mobile solutions company that designs and builds mobile apps and enterprise IT applications. It's not an interpretation agency but a service provider of technology services and solutions. It's headquartered in the USA with its lead technology engineers in Nevada and California.