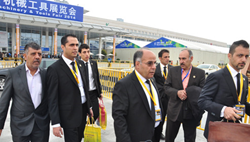 Zhengzhou, China (PRWEB) March 10, 2014
The leading abrasives and diamond tools trade platform iAbrasive.com today announces that China Xiamen International Stone Machinery & Tools Fair 2014 has concluded successfully. It is reported this leading show draws the largest attendance from over 54 countries or areas--the ideal platform for both stone and abrasives industry, who has continued to expand globally in both scale and client base.
According to the introduction, more than 2,000 companies exhibited at the fair, which lasted for four days. The fair received the global manufacturers in the field of super-hard materials & tools. To keep up with the development trends of the industry, the organizers made several changes which were thought highly of by the visitors.
> Safer: to prevent any terrorist attack and ensure the safety of visitors, the organizers reinforced the security check this year.
> Smarter: the organizers launched a new program named "Mobile Client", through which exhibitors can keep themselves informed with the detailed service information of the fair and finish the personal registration.
> Humanized: most machines, which might cause much noise when in testing, were exhibited in outdoor pavilion. Therefore, indoor visitors as well as exhibitors would not be affected by the annoying noise caused by the machines.
More news about the fair, users are welcome to follow iAbrasive at: http://www.iabrasive.com
About iAbrasive
Headquartered in Zhengzhou, Henan province, iAbrasive is a communication and information platform for the abrasives industry only, which offers domestic sellers the opportunity to present themselves to overseas buyers. The users can inform themselves of in-depth and comprehensive information on the latest developments, trends, services and products from different areas. More news update at: http://www.iabrasive.com