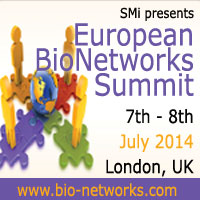 (PRWEB UK) 11 March 2014
As many products come off patent, this is causing 'game-changing' falls in revenues. Consequently, industry is grappling with questions pertaining to the most effective strategies for developing meaningful new drugs and how it should collectively fund and reward their discovery and development activities.
Gone are the days that pharma companies can 'go it alone'. As a result, companies in the life sciences sector must think creatively in order to gain maximum potential and benefits from their partnering and collaboration strategies and models.
Following on from a portfolio of successful pharmaceutical events, SMi are proud to present their European BioNetworks Summit, taking place on the 7th and 8th July, 2014 in Central London. This important and timely meeting will allow biotech, pharma, academic and funding organisations to evaluate how they partner with other stakeholders in the field to accelerate research and reduce costs.
Join this conference and hear timely case studies, presentations, roundtables and panel discussions on the hottest topics, from leading experts as they demonstrate how to create winning strategic partnerships from modern day collaborations!
Key Topics
Key Topics will discuss the key milestones involved and what you need to know before, during and after the partnering process including......

The 4 musketeers… pharma, biotech, academia and venture capitalists! Taking advantage of each other's strengths to drive drug discovery and R&D
Aligning pharma and venture capitalists… Reviewing how this is impacting on early stage investment
Funding for the future – where is the money right now and where is it heading?
Positioning your organisation to win new deals by introducing alliance management tools
Dealmaking tips – working through the timeline for creating successful partnerships
Benefits of attending:

12 big pharma and biotech companies on the speaker platform!
Network and learn from your future partners
The must attend event showcasing how biotech, pharma, academic and funding organisations can create winning strategic partnerships from modern day collaborations
Hear cutting edging presentations and key cases studies from leading industry and academic experts
Learn about the latest developments pertaining to strategic partnering and funding
Chairperson:

Sanj Singh, President and CEO, Ade Therapeutics
Key Speakers Include:

Simone Breitkopf, Head Governmental and Public Affairs, Pricing and Reimbursement, Alcon Pharma GmbH (Novartis Group)
Lubor Gaal, Head of Europe, Business Development, Bristol Myers Squibb
Dr Robert Williams, Chief Development Scientist, Drug Development
Office, Cancer Research UK

Mika Partanen, Deputy Director, Global Competitive Insights, Bayer Pharma
Dr. Michael Meyers, Vice President of Scientific Innovation, Oncology, Johnson and Johnson
Davidson Ateh, Chief Executive Officer, BioMoti
Professor Joseph Sweeney, Professor of Catalysis and Chemical
Biology, Department of Chemical Sciences, University of Huddersfield

Jorgen Drejer, Chief Executive Officer, Aniona
Adrian Dawkes, Vice President, PharmaVentures
For more information visit the website http://www.smi-online.co.uk/bio-networks35.asp or contact Fateja Begum on +44 (0) 20 7827 6184 or email fbegum(at)smi-online(dot)co.uk.