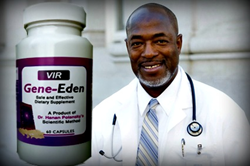 We recommend that individuals with an EBV infection take Gene-Eden-VIR to reduce the danger posed by the latent Epstein Barr Virus. This natural antiviral was designed to help the immune system target the latent EBV. – Mike Evans, polyDNA
Rochester, NY (PRWEB) March 16, 2014
A study has found a strong link between the Epstein Barr Virus (EBV) and life-long infectious "mononucleosis-like" symptoms, such as fever and extreme fatigue. "Epstein-Barr virus (EBV) infection is usually asymptomatic and persists lifelong…rarely, however, individuals without apparent immunodeficiency develop chronic EBV infection with persistent infectious mononucleosis-like symptoms (1)." polyDNA recommends Gene-Eden-VIR to help the immune system target the latent EBV. This natural product was clinically proven to reduce symptoms of an Epstein Barr Virus infection in a study that followed FDA guidelines.
Individuals with a chronic, long-term EBV infection "exhibit high EBV DNA load in the peripheral blood and systemic clonal expansion of EBV-infected T cells (a type of immune cell) or natural killer (NK) cells (another type of immune cell) (1)." This means that the standard blood test of these individuals will show a high concentration of EBV DNA. "Their prognosis is poor with life-threatening complications including hemophagocytic lymphohistiocytosis (a blood disorder), organ failure, and malignant lymphomas (an aggressive type of cancer) (1)." In other words, those with a chronic infection can end up developing many different life-threatening diseases.
"EBV is transmitted via intimate contact with body secretions, primarily oropharyngeal secretions. EBV infects the B cells in the oropharyngeal epithelium. The organism may also be shed from the uterine cervix, implicating the role of genital transmission in some cases. On rare occasion, EBV is spread via blood transfusion." (See MedScape.com, last updated January 31, 2013) (2). EBV is normally spread through saliva, and can also be spread through sexual contact.
EBV is especially common among teenagers and young adults, especially college students. "It is one of the most common human viruses. EBV is found all over the world. Most people get infected with EBV at some point in their lives." (See the CDC, last updated January 6, 2014) (3).
"We recommend that individuals with an EBV infection take Gene-Eden-VIR to reduce the danger posed by the latent Epstein Barr Virus. This natural antiviral was designed to help the immune system target the latent EBV." – Mike Evans, polyDNA
A study published on August 12, 2013 in the peer reviewed, medical journal Pharmacology & Pharmacy, in a special edition on Advances in Antiviral Drugs, showed that Gene-Eden-VIR reduced EBV symptoms. Study authors wrote that, "Individuals infected with the Epstein Barr Virus…reported a safe decrease in their symptoms following treatment with Gene-Eden-VIR (4)."
The study authors also wrote that, "We observed a statistically significant decrease in the severity, duration, and frequency of symptoms (4)."
To learn more about Gene-Eden-VIR, and EBV, visit http://gene-eden-kill-virus.com/EBV.php. All orders of Gene-Eden-VIR are completely confidential, and no information is shared or sold to any third party. Privacy is assured.
References:
(1) Current Studies on Chronic Active Epstein-Barr virus Infection in Japan. Published February 16, 2014.
http://www.ncbi.nlm.nih.gov/pubmed/24528553
(2) Medscape - Infectious Mononucleosis - Overview. Last updated January 31, 2013.
http://emedicine.medscape.com/article/222040-overview#a0199
(3) CDC - About Epstein-Barr Virus (EBV). Last updated on January 6, 2014.
http://www.cdc.gov/epstein-barr/about-ebv.html
(4) Gene-Eden-VIR Is Antiviral: Results of a Post Marketing Clinical Study. Published on August 12, 2013.
http://gene-eden-kill-virus.com/PP_Gene-Eden-VIR-is-Antiviral.pdf
polyDNA is a biotechnology company that develops dietary supplements using the unique scientific method developed by Dr. Hanan Polansky, which is based on Computer Intuition.
In addition to his unique scientific method, Dr. Polansky published the highly acclaimed scientific discovery, called Microcompetition with Foreign DNA. The discovery explains how foreign DNA fragments, and specifically, DNA of latent viruses, cause most major diseases.
polyDNA developed Gene-Eden-VIR, an antiviral natural remedy that helps the immune system kill latent viruses.