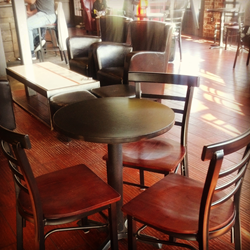 The Rounded Ladder Back Chair is very versatile and is ideal for almost any café or restaurant.
Sacramento, CA (PRWEB) March 10, 2014
Old Soul is a Coffee Roaster and Cafe in Sacramento, CA that offers multiple espresso drinks, sandwiches, salads, and pastries. Their specials change multiple times a week but include items like pasta w/ Broccoli Rabe, Pastrami sandwiches, and brunch and pancake specials on the weekends.
The company originally started as a wholesale only business and eventually began selling to the public in 2006. In addition to having four cafes in the Sacramento area they also provide a variety of breads and roasted coffee to a select few cafes, restaurants and registers.
One of the co-owners of Old Soul, Tim Jordan recently decided to upgrade the seating for one of the locations. The Forty Acres Café in the heart of the newly revitalized Oak Park location covers over 1000 square feet. He turned to Restaurant Furniture Supply for commercial chairs because of their reputation for excellent quality at affordable prices explained sales person Chris K. He opted to go with the Rounded Ladder Back Metal Chair with a black frame finish and dark mahogany solid wood seats. "It's one of our most popular chairs across America. The café gets a lot of traffic so he needed a classic chair that they knew would be durable and stand up to heavy usage without getting wobbly or breaking, like a chair not constructed for commercial use would tend to do," Chris K. said.
Restaurant Furniture Supply's Rounded Ladder Back Metal Chair sells for $35. In addition to the mahogany seat finish which the owner selected, the chair also comes in cherry, dark mahogany, walnut, natural and black. Customers also have the option of an American made padded seat upholstered in vinyl or fabric. The frame comes in black, gold, copper vein, silver vein or gold vein. A matching bar stool is also available for $52.
"Tim was pleased with the way the chair blended in with the motif and enhanced the overall décor of the café," remarked Chris. "They match the rustic look they are going for and have a classic yet modern design. The Rounded Ladder Back Chair is very versatile and is ideal for almost any café or restaurant."
Browse Restaurant Furniture Supply's full selection of commercial grade chairs, bar stools, table tops, table bases, booths and patio furniture at http://www.restaurantfurnituresupply.com/ or talk to a customer service representative at (888) 346-9992.
Old Soul Co. is located at 1716 L. St. in Sacramento, CA. They can be contacted at: (916) 453-8540. You can also visit their website at: http://oldsoulco.com/.