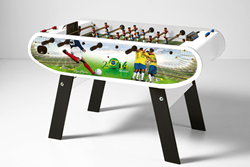 Leeds, West Yorkshire (PRWEB UK) 12 March 2014
Rene Pierre, France's premier manufacturer of high quality football tables, today announced the launch of the new Brasilia table football table, designed to highlight the upcoming FIFA World Cup to be held in Brazil this coming July.
Distributed in the UK by American Billiard Company, the Brasilia has been designed to be a fun looking table that captures the flair of Brazilian football and culture.
The table is aimed primarily at the youth market, though there is no reason as to why the Rene Pierre Brasilia cannot be the focus of a full-on adults party celebration!
As with all Rene Pierre table football tables, the Brasilia features telescopic rods for high quality play and safety, something that is key if younger children are likely to be around during play.
For more information on the Brasilia football table, contact American Billiard Company.