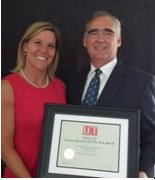 West Palm Beach, FL (PRWEB) March 10, 2014
Palm Beach Tours & Transportation, Inc. was recently honored by the National Limousine Association and LCT Magazine at their annual convention held in Las Vegas. The National Limousine Association is the largest trade association of its type and LCT Magazine is the oldest and most established trade publication for the ground transportation industry in the world. The conference which is produced by LCT Magazine is held every year and is considered to be the premiere event of the industry.
The Green award is presented to the company that exhibits the most innovative methods and efforts towards the implementation and advancement of green technologies as they apply to the transportation industry. In discussing green initiatives as they relate to Palm Beach Tours & Transportation, Mr. Critchett stated, "these initiatives not only make economic sense; but of equal importance is our moral and patriotic role in helping to improve the environment in our community and leave something better for our children than what was provided for us."
For more information visit http://www.pbtt.com.