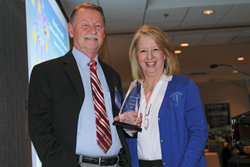 HomeTown Health is proud to have such dedicated people working in and on behalf of rural hospitals.
Orlando, FL (PRWEB) March 14, 2014
HomeTown Health, LLC honored three healthcare leaders at the 2014 HomeTown Health Winter Conference held in Orlando February 17 - 19, 2014.
HERO AWARD - Leila Samy, was honored with the Rural Hospital HERO Award. "The Rural Hospital Hero of the Year Award goes to Leila Samy for her leadership in addressing the challenges rural hospitals face with Health IT and the meaningful use of Electronic Health Records and most importantly for bringing our rural hospitals to the minds and hearts of those in Washington DC, thank you very much," remarked Kathy Whitmire, HomeTown Health's Managing Director, as she presented the award to Ms. Samy.
At the request of the White House Rural Council, Leila Samy leads joint initiatives with Federal partners, including US Departments of Agriculture, Veterans Affairs, Labor and Education as well as the Federal Communications Commission to identify and address challenges facing rural communities. Her initiatives have expanded access to financing, broadband and workforce for rural health IT and leveraged technology and health information exchange to improve health care quality and coordination for rural veterans that wish to seek care both within the VHA as well as at their local rural health care provider. As Rural Health IT Coordinator for the Office of National Coordinator for Health IT (ONC), Leila's work in Washington, DC has been at the forefront of efforts to create rural health IT networks and accelerating the adoption of meaningful use among Critical Access Hospitals nationwide. In this capacity, she issued a nationwide challenge calling for "all hands on deck" to see 1,000 (60 percent of) Critical Access Hospitals and small rural hospitals successfully adopt and use health IT by 2014. As of October 2013, Ms Samy announced that over 82 percent of these rural safety-net hospitals nationwide achieved Meaningful Use of certified Health IT. Ms. Samy has been working with the US Department of Health and Human Services (HHS) since 2007 and brings over 9 years of policy and program evaluation experience, both nationally and internationally, in healthcare, public health and medical research. Ms. Samy holds a Master of Public Health with a focus in health policy and management from Emory University. Leila Samy is active on social media. She tweets @LeilaSamy and blogs for ONC's Health IT Buzz Blog on rural topics.
HOSPITAL LEADER OF THE YEAR - David Abercrombie, CEO of Madison County Memorial Hospital, was honored as the recipient of the Florida Division's 2014 Hospital Leader of the Year award.
At a time when health care is facing drastic changes and revolutionary revisions to the delivery of health care, "David has exhibited courageous efforts to preserve and promote rural healthcare in Madison and because of his outstanding achievements HomeTown Health, LLC is proud to announce that David Abercrombie is awarded the 2014 HomeTown Health Florida Hospital Leader of the Year Award," stated HomeTown's Managing Director, Kathy Whitmire as she presented this coveted award.
This award is presented by HomeTown Health to individuals who exhibit extraordinary talents and skills in positively influencing the delivery of health care in Florida. The healthcare industry needs capable leaders more than ever and David is one of those very gifted people. HomeTown Health is pleased to recognize David Abercrombie, whose efforts truly constitute a contribution to the betterment of mankind where few people have the opportunity to make that kind of contribution.
Michele Madison, Attorney and partner in the Firm of Morris, Manning and Martin, LLP was honored with an Award of Appreciation by the Florida Division of HomeTown Health, LLC at the 2014 HomeTown Health Winter Conference held in Orlando, February 17-19. Based on the outstanding service and excellent contributions Ms. Madison has provided to HomeTown Health's rural hospital members in the Southeast she was recognized with this accolade in gratitude for her efforts.
Michele is a graduate of both Georgia State University and The University of Georgia School of Law. As a partner in the firm of Morris, Manning and Martin's Healthcare Practice, she provides general legal advice to health systems in various regulatory and business matters and also works with information technology companies. Ms. Madison also has key experience and expertise in Compliance programs. She provides advice for compliance with state and federal regulations and drafts and negotiates agreements with hospitals, physicians, managed care organizations and ancillary service providers, as well as contractual agreements for vendors with an emphasis on information technology, purchasing and lease agreements. Ms. Madison also works with electronic medical record vendors and personal health record providers. Ms. Madison is highly experienced in managing legal issues in hospitals, physician offices or integrated health systems including employment, risk management assessment and corporation management, and she provides legal education for health systems' medical staff, management team and employees in these areas. In addition to forging advancements in legal services and excelling in her role in the Health Care field of practice, Michele consistently contributes to the advancement and education of HomeTown Health's member hospitals through workshops, seminars, conference presentations.
"Michele was recognized for her support and dedication to rural hospitals, for outstanding service and commitment to excellence and for her tireless efforts in helping rural hospitals survive." said HomeTown CEO Jimmy Lewis.
HomeTown Health, LLC is an organization of more than 70 rural and small hospitals, located throughout the Southeast, who collectively pursue ways to help our hospitals survive in this environment of constant changes to reimbursement and huge budget cuts from the state and federal level. The mission of HomeTown Health is to ensure that rural healthcare in Georgia is preserved at the local community level wherever possible and that a continuum of care is available to the rural populations of Georgia. HomeTown Health began as a handful of community hospitals 14 years ago, and has now grown into an organization of over 70 hospital members and 60 "Best Practice" business partners. For more information, visit http://www.hometownhealthonline.com.