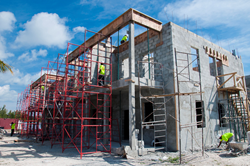 We're a hive of activity right now. Interest continues to grow, and construction with it.Zack BonczekSales & Marketing Director
Nassau, Bahamas (PRWEB) March 12, 2014
Having already quadrupled its full time local team in sales, operations and marina services in less than a year, the waterfront, family–oriented community along Nassau's southeastern shore is creating opportunities for more than 80 construction workers. All the carpenters, plumbers and electricians are working on a 5-year project that includes beachfront and marina view townhomes, a 5-phase condominium project and numerous individual homes on single family residential lots. They are also putting the finishing touches on a restaurant named Billfish Grill, which is expected to open by month's end, and a casual dockside eatery that will open a short while later. They have already completed lighted tennis courts, a clubhouse, and numerous other amenities, including multiple swimming pools, extensive walkways, infrastructure, lighting, electrical and other works.
"We're a hive of activity right now. Interest continues to grow, and construction with it," said Sales & Marketing Director Zack Bonczek.
"After the success of our first townhomes and single family lots, we actually had to launch Phase I of our condo project, The Anchorage, ahead of schedule."
With construction of Phase II underway and nearly all of the units already spoken for, Bonczek said work is also continuing on several family lots, as well as the luxurious beachfront Starfish Isle townhomes.
"Demand continues to build," he said. "And with three more phases of The Anchorage to come and some exciting new offerings in the pipeline, we look forward to creating even more opportunities to meet our growth."
According to Bonczek, the appeal of Palm Cay is the result of its unique mix of top drawer amenities, beautiful beach views, elegantly appointed units and an already flourishing community atmosphere. It also boasts a marina that is the closest to the Exumas and with 194 slips, is the largest in New Providence (the island that Nassau is on) in terms of capacity.
About Palm Cay:
Palm Cay is a 69-acre residential community along New Providence's southeastern shore in Nassau, Bahamas. It features over 300 properties, including single family lots, townhomes, and condominiums along with a 194-slip, deep water, full service marina. Additional amenities include a clubhouse, two tennis courts, playground, swimming pools, and 1,500 feet of oceanfront with a 1,200 foot long beach. Future plans for Palm Cay include a fitness center and full restaurant. To learn more about Palm Cay and its unparalleled amenities, visit http://www.palmcay.com.