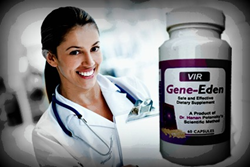 We recommend that individuals infected with HCV speak to their doctors about Gene-Eden-VIR. This natural antiviral was designed to help the immune system target the latent HCV. – Mike Evans, polyDNA
Rochester, NY (PRWEB) March 17, 2014
Almost 3 million people are chronically infected with Hepatitis C (HCV) in the United States. Dr. Scott D. Holmberg said "This number should be considered a minimum estimate for those infected in the U.S. (1)." In addition, "Hepatitis C has a severe impact…especially (on) baby boomers (those born from 1945 through 1965)… Baby boomers represent about 81 percent of chronically infected people (1)." polyDNA recommends that at risk individuals, and especially those who test positive for HCV, talk to their doctor about Gene-Eden-VIR. This natural product was clinically proven to reduce symptoms of HBV infection in a study that followed FDA guidelines.
A study found that "prevalence of HCV infection was one percent among people ages six and older, which corresponds to 2.7 million people across the U.S. Even more people had antibodies against the virus in their blood, suggesting they had been exposed to it in the past. People with HCV were more likely than those who had never been infected to be in their 40s or 50s, male and black and to have been born in the U.S., the authors reported in the Annals of Internal Medicine. They were less likely be well-off or to have education past high school (1)."
"Hepatitis means inflammation of the liver. Toxins, certain drugs, some diseases, heavy alcohol use, and bacterial and viral infections can all cause Hepatitis. Hepatitis is also the name of a family of viral infections that affect the liver; the most common types are Hepatitis A, Hepatitis B, and Hepatitis C." (See the CDC, last updated on February 10, 2014) (2).
"Most people with chronic Hepatitis C do not have any symptoms. However, if a person has been infected for many years, his or her liver may be damaged. In many cases, there are no symptoms of the disease until liver problems have developed. In persons without symptoms, Hepatitis C is often detected during routine blood tests to measure liver function and liver enzyme (protein produced by the liver) level (2)."
"Undiagnosed hepatitis C places millions at serious risk of liver disease, cancer and death,' Holmberg said. 'Unfortunately, half or more of those with hepatitis C do not know they are infected.' He said it can be 20 or 30 years between when a person is infected with the virus and when symptoms related to hepatitis C begin to appear (1)."
"We recommend that individuals infected with HCV speak to their doctors about Gene-Eden-VIR. This natural antiviral was designed to help the immune system target the latent HCV." – Mike Evans, polyDNA
A study published on August 12, 2013 in the peer reviewed, medical journal Pharmacology & Pharmacy, in a special edition on Advances in Antiviral Drugs, showed that Gene-Eden-VIR reduced HCV symptoms (3).
Study authors wrote that, "Individuals infected with the Hepatitis B virus…reported a safe decrease in their symptoms following treatment with Gene-Eden-VIR (3)." The study authors also wrote that, "We observed a statistically significant decrease in the severity, duration, and frequency of symptoms (3)."
To learn more about Gene-Eden-VIR, and HCV, visit http://www.gene-eden-kill-virus.com/HCV.php. All orders of Gene-Eden-VIR are completely confidential, and no information is shared or sold to any third party. Privacy is assured.
References:
(1) One in 100 Americans has chronic hepatitis C infection. Published on March 7, 2014.
http://www.reuters.com/article/2014/03/07/us-chronic-hepatitisc-idUSBREA261PJ20140307
(2) CDC - Hepatitis C Information for the Public. Last updated on February 10, 2014.
http://www.cdc.gov/hepatitis/c/cFAQ.htm#overview
(3) Gene-Eden-VIR Is Antiviral: Results of a Post Marketing Clinical Study. Published August 12, 2013.
http://gene-eden-kill-virus.com/PP_Gene-Eden-VIR-is-Antiviral.pdf
polyDNA is a biotechnology company that develops dietary supplements using the unique scientific method developed by Dr. Hanan Polansky, which is based on Computer Intuition.
In addition to his unique scientific method, Dr. Polansky published the highly acclaimed scientific discovery, called Microcompetition with Foreign DNA. The discovery explains how foreign DNA fragments, and specifically, DNA of latent viruses, cause most major diseases.