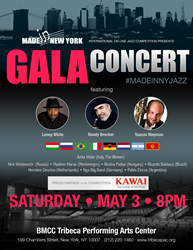 New York, New York (PRWEB) March 13, 2014
The Gala Concert of the Made in New York Competition, which will take place at the Tribeca Performing Arts Center on Saturday, May 3, 2014, features a global roster of future jazz stars. These tech-savvy new performers, who have embraced modern technologies, social media and made it their own. All the performers that will take a stage in Tribeca participated in Made In New York Jazz Competition, to gain international exposure. In the words of Misha Brovkin, founder of the competition, the fact that today's musicians have the ability to perform online for a global audience has "shattered the geographical barriers".
The organizers of this first-ever Gala Concert haven't limited the performer roster to the top three entries, however – the concert lineup includes a selection of performers whose videos were very popular even though they didn't finish in the money. The diverse range of global talent who'll be appearing onstage includes Ricardo Baldacci from Brazil, Hermine Deurloo from the Netherlands, Pablo Elorza from Argentina, Vladimir Maras from Montenegro, Rozina Patkai from Hungary, NGA Big Band from Germany and Nick Vintskevich from Russia.
These new jazz luminaries in the making will be joined onstage by legendary jazz drummer and competition judge Lenny White, who appeared on Miles Davis' historic "Bitches' Brew", will take the stage at the Tribeca Performing Art Center, his fellow judge and multiple Grammy award winner Randy Brecker, who has worked with such artists as Bruce Springsteen, Lou Reed, Frank Zappa, Parliament-Funkadelic, Jaco Pastorius and Charles Mingus. Yet another performer will be amazing saxophonist Yaacov Mayman, who serves as the competition's art director.
Tickets can be purchased here: http://ow.ly/uvoCR
The excitement produced by this inaugural concert, the culmination of a competition Yaacov Mayman summed up as a "resounding success", is sure to generate even more enthusiasm for next year's event. Mayman says he "can't wait to see next year's video performances," and, judging from the reception so far from thousands of jazz fans all over the world, the international jazz community feels the same way. The gala concert is sure to see the birth of more than a few global jazz stars.
About Made In New York Jazz Competition:
The Made in New York Competition, which launched in 2013, is international online jazz competition. Contestants submitted video clips which posted to the competition website, and the winners is decided by popular vote, Committee Members as well as a panel of judges: jazz greats Lenny White, Joe Lovano, and Randy Brecker. The contest grand prize is a cash award of $3000 plus an additional 10% from entry of each participant which makes the price constantly growing, along with the opportunity to travel to New York to headline the Made in New York Jazz Competition Gala Concert. The second and third-place prizes in 2013 were provided by KAWAI USA—the future of the piano®— the elegant KAWAI ES7 Portable Digital Piano and the powerful KAWAI MP6 Professional Stage Piano to the Competition's second and third-place finishers.
The extremely talented Italian Anna Vitale, whose video acoustic performance of Jon Hendricks's "Centerpiece" with Bobby McFerrin quickly went viral, garnering numerous hits and being selected as the top choice by the Made in New York jazz competition judges. Misha Brovkin describes her talent as "boundless, an amazing performance" and says that this is exactly what's so exciting about international jazz.
Second prize went to Evgeny Lebedev's "World Trio" from Russia who performed an original composition rather than a cover tune, while Germany's NGA Big Band took third place for their version of Bob Brookmeyer's "The American Express.
http://www.madeinnyjazz.com
http://www.facebook.com/madeinnyjazz
http://www.twitter.com/madeinnyjazz