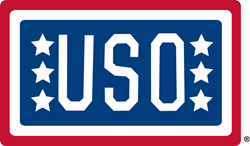 '...what our troops and their families need most are programs and services that provide them with the tools necessary to live healthy and happy lives and to know that America is there for them...' - USO Vice President of Warrior and Family Care Ed Shock
Arlington, Va. (PRWEB) March 10, 2014
It is estimated that some 300,000 troops have returned home from war with invisible wounds such as post traumatic stress disorder (PTSD) or traumatic brain injury (TBI). March is National Brain Injury Awareness month, and while the USO offers programs and services to support our wounded, ill and injured troops all year round, this is the perfect time for the American public to reflect on the sacrifices made by our men and women in uniform and their families. According to the Department of Defense, more than 26,000 troops were diagnosed as having a TBI last year alone.
"Injury is a sad but true fact of any war, our injured troops are resilient but they still need our reassurance, and to know that there is hope," said USO Vice President of Warrior and Family Care Ed Shock. "But what troops and their families need most are programs and services that provide them with the tools necessary to live healthy and happy lives and to know that America is there for them through every moment of their recovery. The USO is proud to be among the organizations our troops have come to trust to deliver those programs and services."
The USO is the only organization that supports service men and women throughout their service, from the moment they join, through their deployments and as they transition back to their communities. It's that reputation which allows the USO to partner with more than 30 best-in-class organizations to provide wounded, ill and injured troops and their family access to more than 50 programs and services. This month alone, the USO will host 29 opportunities to engage and support active duty troops, military families and our wounded ill and injured troops and their caregivers - as well as families of the fallen - with programs designed to alleviate stress, build resiliency and confidence and strengthen family bonds.
Among the programs being offered this month to support our wounded, ill and injured troops and their families are:
USO/Hire Heroes USA Workshops, a program designed to provide transitioning troops with the skills and tools necessary to return to the civilian workforce. The two-day workshop focuses on resume writing, mock interviews, professional work practices and translating prior military experience into a civilian career.
USO/Team Red White and Blue Functional Fitness Camp, a three-day training camp where healing heroes will join Functional Fitness coaches and trainers to workout, develop skills and training plans as well as set goals, which allows wounded troops to take ownership of their physical fitness and provides them with an opportunity to connect with their peers and overcome social anxieties.
USO/Stronger Families Couples Oxygen Seminar, which helps military couples strengthen their relationships while working on tough issues in a fun and nonthreatening environment. Couples learn how to better communicate and understand each other's needs, resolve conflict, rekindle romance and find renewed hope.
Writing Warriors Writing Workshops, a 12-hour workshop which affords troops, healing heroes, and military spouses the opportunity to work with some of today's top thrill writers and learn the basics of writing professionally, including how to develop a story, working with agents, publishers and marketing.
Additionally, next month the USO will host its annual Caregivers Conference in Colorado Springs, Colo. The two-day conference will give caregivers the opportunity to share their stories with peers, build support networks and learn new skills and techniques to help them to cope with the everyday nuances of being a caregiver. "…there were so many times, since I arrived at the conference, that I almost cried, simply because I have finally realized how stressed I had become over time," one USO Caregiver Conference attendee told us after a conference.
Last year, the USO opened doors to its first-ever Warrior and Family Center. Since opening, the USO Warrior and Family Center at Fort Belvoir has served more than 130,000 troops and military families through more than 1,200 programs and events. Next month, the USO will celebrate the grand opening of its second Warrior and Family Center. The Warrior and Family Center at Bethesda will serve the military community on the campus of Naval Support Activity Bethesda, home of Walter Reed National Military Medical Center. Both Warrior and Family Centers are strategically located near military hospitals to offer recovering troops and their families a place to retreat to when they need a break from hospital living. Additionally, the USO Warrior Center located at Landstuhl Regional Medical Center (LRMC) in Germany provides a place to relax for the wounded recovering at LRMC until they are healthy enough to return to duty in Afghanistan or return to the United States.
For more information about the USO and to find out how you can show your support, visit us online at http://www.uso.org. A complete list of 2014 USO Warrior and Family Care Programs and Services can be found online at http://www.uso.org/warriorandfamilycare/.
# # #
About the USO
The USO lifts the spirits of America's troops and their families millions of times each year at hundreds of places worldwide. We provide a touch of home through centers at airports and military bases in the U.S. and abroad, top quality entertainment and innovative programs and services. We also provide critical support to those who need us most, including forward-deployed troops, military families, wounded warriors and families of the fallen. The USO is a private, non-profit organization, not a government agency. Our programs and services are made possible by the American people, support of our corporate partners and the dedication of our volunteers and staff.
In addition to individual donors and corporate sponsors, the USO is supported by President's Circle Partners: American Airlines, AT&T, Clear Channel, The Coca-Cola Company, Grand Canyon University, jcpenney, Jeep, Kangaroo Express, Kroger, Lowe's, Northrop Grumman Corporation, Procter & Gamble and TriWest Healthcare Alliance and Worldwide Strategic Partners: BAE Systems, The Boeing Company, Lockheed Martin, Microsoft Corporation and TKS Telepost Kabel-Service Kaiserslautern GmbH & Co. KG. We are also supported through the United Way and Combined Federal Campaign (CFC-11381). To join us in this patriotic mission, and to learn more about the USO, please visit uso.org.