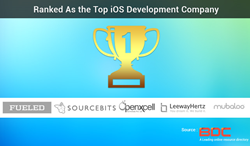 More than 100 companies working rigirously in app development space were taken into consideration while research and analysis was done to find best companies.
Washington, D.C. (PRWEB) March 12, 2014
BDC, the leading directory of software business and independent research firm announced top iPhone app development companies today. The report is a outcome of extensive research of top app development companies based on client's reviews, quality standards, development processes and QA. According to BDC, Fueled and Sourcebits are frontrunners while Openxcell Technolabs, Leewayhertz and Mubaloo are following next to them.
"More than 100 companies working rigorously in app development space were taken into consideration while research and analysis was done to find best companies. These five top iPhone app development companies outperform others through their commitment towards innovation to meet customers app requirements," says Mike Taylor, co-founder and director, BDC (bestdevelopmentcompany.com). " Apart from working only as development partner, these app development companies add value by brainstroming app ideas, creating better business model and excellent user interfaces. Some companies like Openxcell Technolabs even go extra miles by providing marketing solution once the app is deployed.
BDC utilises their depth research and critical evaluation criteria for the assessment. The criteria include ability to deliver high quality app development, cost-effectiveness, experience & core competency, app portfolio, quality of UI/ UX & , app testing quality, customer support and maintenance. The following are the Top 5 iPhone app development firms:
Fueled :
Fueled is an iPhone app development and mobile design company that delivers versatile intuitive UI/UX experiences. Driven by Fueled digital design and strategy team, their unique four phase app development model delivers high quality functional apps.
Sourcebits:
Sourcebits as a design-led engineering app company, creates value through its strategic consulting approach. Since 2013, through Sourcebits innovation strategy workshops, they introduce disruptive innovations to create solutions for their clients. An active participant of launch festival 2014 held at San Francisco, they excel in delivering high quality UI/UX design.
Openxcell Technolabs:
Openxcell Technolabs is leading offshore app development company working in direction of providing end to end app business solution. They believe to keep marketing and monitization in center while conceptualizing, designing and development of apps. Openxcell Technolabs delivers a competitive edge through adaptability and cost effectiveness due to there onshore- offshore model.
Leewayhertz:
Leewayhertz continues to be the most disruptive technology app development company. Their pathbreaking apps, from app store toppers to critical enterprise apps such as the 'home purchase pro' or 'path lead' ensure it top spot as leading enterprise iPhone app developer.
Mubaloo LTD:
Mubaloo, the award winning enterprise mobility company recently launched MiBeacons, which helps enterprises use iBeacon technology to deliver contextual intelligence. Mubaloo delivers end-to-end enterprise and consumer solutions and is an active sponsor of appathon events.
Apart from these rankings, BDC team helps customers to find best and suitable app development companies based on their requirement, budget and expectations.
About BDC:
BDC is leading directory of software businesses and independent research firm. BDC helps clients find their suitable development partner among the listed best mobile development companies. Visit http://www.bestdevelopmentcompany.com or call 1-360-326-2243 for more details.