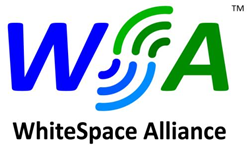 Chelmsford, MA (PRWEB) March 11, 2014
The WhiteSpace Alliance™ (WSA), a global industry organization enabling sharing of underutilized spectrum, today announced its endorsement of the recently amended IEEE 802.11af standard, commonly known as WiFi, for adding White Space services to wireless LAN devices.
"The enhanced IEEE standard is a significant validation of using intelligent database driven spectrum sharing to deliver robust broadband services using White Spaces," said Dr. Apurva Mody, Chairman of WhiteSpace Alliance. "The entry of the IEEE 802.11af boosts the TV White Space eco-system and complements technologies such as IEEE 802.22 (Wi-FAR™) that are used for long range and backhaul applications."
The amended standard is a second standard approved by the IEEE that provides a mechanism for geolocation database access to underutilized ("White Space") radio spectrum. The specification enables available TV band spectrum to be aggregated to support multi-megabit data services while maintaining compatibility with existing international TV band allocations.
In conjunction with the previously published IEEE 802.22 standard for Wireless Regional Area Networks, IEEE 802.11af provides a reliable, secure, end-to-end system for wireless broadband access. The feasibility of this combined platform was recently confirmed in field trials conducted jointly by Japan's National Institute of Information and Communications Technology (NICT) and Hitachi Kokusai Electric, Inc. In these trials, a multi-hop network was constructed using IEEE 802.22 as a backbone link and IEEE 802.11af to distribute broadband access to the connection area. Applications taking advantage of this new technology, such as video monitoring of roads and cliffs and video telephone in mountainous areas were demonstrated where no Internet connections existed previously.
WhiteSpace Alliance has a following of more than 200 major commercial, academic, government and regulatory organizations around the world. For more information on WhiteSpace Alliance, please visit http://www.WhiteSpaceAlliance.org
For more information on IEEE 802.11af, see http://standards.ieee.org/news/2014/ieee802.11af_amendment.html
For more information on NICT/Hitachi Kokusai trials, see http://www.prnewswire.com/news-releases/nict-hitachi-kokusai-electric-achieve-historic-breakthrough-in-long-range-broadband-communications-in-tv-white-space-241588171.html
About WhiteSpace Alliance
The mission of the Whitespace Alliance is to promote the development, deployment and use of standards based products and services as a means of providing broadband capabilities via WhiteSpace spectrum. By promoting the use of standards, the Alliance will enable companies to provide broadband connectivity at reasonable cost. The WSA will also act as an enabler of the emerging white spaces ecosystem by helping to put in place interoperability, conformance, and compliance testing to make sure that our member stakeholders get the needed information & collaborations to succeed both in the market place and with regulatory requirements. WhiteSpace Alliance will promote the use of IEEE, 3GPP and IETF Standards for use in the WhiteSpaces.