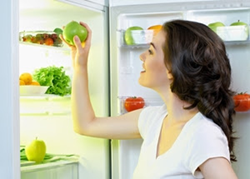 Eating right is the first step Americans can take toward a long and happy life, and effective labeling strategies can play a vital role in this campaign.
Denver, CO (PRWEB) March 11, 2014
Lightning Labels, leader in printing custom labels and stickers, is helping brands participate in National Nutrition Month this March with new labeling initiatives. This is the perfect time to highlight products' nutritional qualities on food and beverage labels as well as vitamin bottle labels. National Nutrition Month is sponsored by the Academy of Nutrition and Dietetics, and seeks to educate consumers on making informed diet choices, according to the organization's website. Brands can take advantage of this occasion to draw attention to nutritional elements on labels and demonstrate support for the public awareness initiative. This March, brands should work on campaigns to call attention to items that promote wellness.
"Focusing on nutrition is an important way to gain consumer trust," said AnneMarie Campbell, Business Development Manager at Lightning Labels. "Highlighting this year's theme, 'Enjoy the Taste of Eating Right,' can help companies increase the visibility of food and nutraceutical items that will encourage consumers to pursue healthy lifestyles. Eating right is the first step Americans can take toward a long and happy life, and effective labeling strategies can play a vital role in this campaign."
Labeling Nutrition Information Isn't Just for Foods:
Supplement, nutraceutical and vitamin makers can all get on board with labeling nutrition information. These products can support a healthy diet by supplying additional minerals and vitamins that improve wellness. Vitamin and nutraceutical makers can also take advantage of National Nutrition Month by providing information about how supplements can help to support healthy food and drink choices. A balanced diet is all about incorporating many different food groups. Nutraceuticals, vitamins and supplements can help fill in the missing components, ensuring better overall health. Use this month as an opportunity to inform consumers that eating healthfully doesn't have to be a chore, especially with all of the delicious options available on the market today.
Highlight Nutrition on Health Food Labels:
Unrelated to National Nutrition Month, the U.S. Food and Drug Administration will be releasing new guidelines for nutrition facts on health food labels. This means, on top of orienting labels to promote nutritional health, companies should take extra care when creating nutrition labels. Late in February, President Barack Obama's administration released proposed changes to nutrition labels which would make calories and serving sizes more prominent, NPR reported. While the guidelines have not been solidified, companies can stay ahead of the game by including some of the proposed rules in labeling campaigns. Food packaging can include messages that discuss how serving sizes impact nutrition. The new food label requirements will focus less on fat content, because research has led to the discovery that only certain fats have a negative impact on health. Food companies can use labels to educate consumers about the new rules and why they are changing. Using label space to teach shoppers about nutrition is a good way to gain trust, but also to encourage consumers to return to products time after time.
Right now Lightning Labels is offering 10% off orders of $500 or more through April 4, 2014, plus a chance to win a 70" flat screen TV using promo code MARCHTV14 at checkout. Orders of $500 or more qualify for automatic entry and for every $500 spent one additional entry is earned. The maximum discount is $1000. Free ground shipping applies to orders placed online only and shipped within the United States and Canada. This offer cannot be combined with any other offers or promotion. Visit LightningLabels.com for details. No purchase necessary.
About Lightning Labels:
Lightning Labels uses state-of-the-art printing technology to provide affordable, full-color custom labels and custom stickers of all shapes and sizes, and now offers a full line of custom packaging products. From small orders for individuals, to the bulk needs of big businesses, Lightning Labels is equipped to handle and fulfill sticker, label and product packaging projects of all types. Best of all, like the name implies, Lightning Labels provides a quick turnaround to every customers' labeling and product packaging needs. Uses for Lightning Labels' custom product labels and custom stickers include food packaging and organic food labels, wine and beverage labels, bath and body labels, and nutraceutical products, such as vitamins, essentials oils, and herbal remedies, as well as event stickers, adhesive window stickers and more. Lightning Labels strongly supports the development of environmentally friendly printing materials and carries EarthFirst PLA, a new kind of green label material made from corn instead of petroleum. While operating as a high-tech printer, Lighting Labels prides itself on its personalized customer service. Lightning Labels provides one stop shopping for all of your label and product packaging needs. For more information and to place orders online, visit LightningLabels.com. For the latest in packaging news and labeling promotional offers, find Lightning Labels on Pinterest, Twitter (@LightningLabels), Facebook, Google+ and LinkedIn.