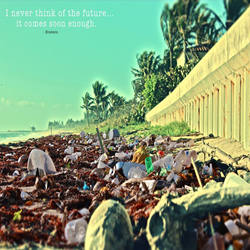 Protecting what we love.
West Palm Beach, Florida (PRWEB) March 11, 2014
According to Joe Pregadio, the founder of Be Ocean and The Garbage Walk, "As avid surfers, we are troubled by the significant increase of toxic trash that has been washing up on our shores." This private expedition is viewed as a positive step within a much grander vision of finding viable solutions towards a seemingly endless amount of garbage plaguing our beaches. Be Ocean will share what they find with the public and also strategize a future walk that will enable all ocean enthusiasts to become involved.
According to Nick Mohnacky, a founder of the Surfr App and voluntary participant, "We are inspired and proud to partake in Be Ocean's expedition on March 16, 2014." Be Ocean will be utilizing Surfr App as a tool during the walk. Through its unique platform, the walkers will be able to document what they find along the way. Nick adds, "We believe that journaling this mission on our Surfr app is an excellent way to utilize its social good platform where activists can mark surf spots along the walk that have major sanitation issues."
ABOUT BE OCEAN
Since Be Ocean was founded in 2013, they have organized fundraisers for ocean minded NPOs, conducted dozens of local beach cleanups, alerted authorities about hazardous medical waste discovered on the beach, and have educated the global public concerning ocean issues via published articles and social media platforms.
ABOUT SURFR
Surfr is a surf report, surf journal and social good platform. It allows you to chronicle your surfing adventures by logging surf sessions and checking spots. Surfr makes it easy to benchmark surf reports and allows you to tap into your trusted friend network by crowdsourcing their activity across the globe. Currently, Surfr App is accessible in more than 8,000 surf spots around the world.