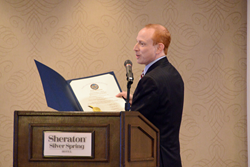 "Thank you for all you do for people with ostomies. Also, thank you for having me. I loved being a part of your 40th Anniversary Celebration." -- Brenda Elsagher
Rockville, MD (PRWEB) March 14, 2014
Delegate Jeff Waldstreicher (D-18-Montgomery) joined nearly 100 volunteers and supporters to commemorate the 40th Anniversary of Metro Maryland Ostomy Association, Inc. (MMOA).
MMOA was founded in 1974 out of the personal experience of Horace Saunders, its founder and president for 30 years. Mr. Saunders was diagnosed with an intestinal disorder and eventually had to have ostomy surgery in 1969. During this time he was very aware that the nursing staff had very limited knowledge of ostomy care and told his wife that if he ever became well, he would "do something about educating those involved in the care of ostomy patients." And he, with his wife Violet at his side, began to plan.
Throughout the years more than 40 physicians and surgeons from 21 area hospitals have spoken at MMOA's monthly meetings. Special guests have also included pharmacists, dieticians, pain management specialists and representatives from ostomy manufacturers. In addition, a handful of dedicated Wound Ostomy and Continence Nurses have spoken, and led panel as well as group discussions providing helpful hints, expertise, and encouragement to ostomates, their families and caregivers.
MMOA in conjunction with the American Cancer Society has sponsored many workshops and conferences for medical personnel in the Washington Metropolitan area as well as throughout the Mid-Atlantic region. MMOA has donated ostomy supplies worth hundreds of thousands of dollars to hospitals and patients, locally, throughout the country and overseas.
Today, Metro Maryland Ostomy Association Inc. is one of the largest and most active and tenured ostomy support groups in the country and is led by President Scott Bowling, who was diagnosed with severe Crohn's Disease at age 8 and had ostomy surgery within six months (May 1980). At age 42, Mr. Bowling, an attorney with the Federal Government has undergone nearly twenty bowel resections and lives with less than 25cm of small bowel. His tenacious attitude and passion to help others is what people attribute to the continuing success and vibrancy of the organization.
Heidi Dengrove, an ostomate and member of MMOA recently wrote "Many thanks to MMOA's hard working volunteers for all you do to keep the organization forwardly moving as a a vibrant force for good, benefiting those with ostomies, their families, caregivers, and friends."
Bonnie, an employee for another non-profit organization in the Jewish Council for the Aging building said of MMOA, "It is apparent how all of you (volunteers) are so valuable to our community. Thank you for helping those in need."
The 40th Aniversary Brunch was headlined by keynote speaker Brenda Elsagher, a nationally known speaker, author, and comedian who closed her remarks by saying "Thank you for all you do for people with ostomies. Also, thank you for having me. I loved being a part of your 40th Anniversary Celebration."
The vision of Horace Saunders "to do something about educating those involved in the care of ostomy patients" was fulfilled. Not only has Metro Maryland Ostomy Association been a benefit to thousands of ostomy patients over the past 40 years, but it has fostered the education of nurses and increased the awareness of the needs of ostomates in the medical world, even to some physicians themselves. Quoting the late Sen. Edward Kennedy, office manager and Board member Mildred Carter said "For all those whose cares have been our concern, the work goes on, the cause endures, the hope still lives and the dream shall never die."
The numbers of ostomates who have come and gone through the years is innumerable; the counsel and encouragement of the medical personnel is immeasurable; the worth of MMOA is incalculable. Thank God for MMOA and the many volunteers who have kept it alive and meaningful, said President Scott Bowling.
For additional information about Metro Maryland Ostomy Association, Inc. or to become involved with the organization, please visit their website at http://www.MarylandOstomy.org or contact their office at 301-946-6661 or via e-mail at info(at)MarylandOstomy(dot)org.