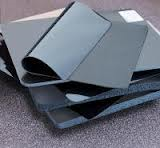 Riverhead, NY (PRWEB) March 24, 2014
Adchem Corporation, a major supplier of pressure-sensitive adhesive (PSA) tapes for the automotive, transportation, and industrial markets, issued a bonding study of adhesive tape systems for six Rogers Corporation PORON® Urethane Foam products tested against 12 Adchem tape systems. The study included PORON® Urethane 4790 and 4701 materials used in communications, automotive, electronics, and industrial device gasketing, sealing, and cushioning applications.
The Adchem PORON® study was conducted both with and without heat during the lamination process as well as at room temperature and at elevated temperatures, after aging. Adchem's study provides bond strengths for each foam matched to a broad range of PSA transfer tapes and double-sided tape constructions, including new Low Surface Energy (LSE) adhesive formulations. The study is available at Adchem foam bonding studies and demonstrates the importance of matching the correct pressure-sensitive product to specific grades of similar materials. Adchem's interactive website, http://www.adchem.com, provides detailed studies and in-depth comparative analysis for each of the adhesive systems tested.
All Adchem's double-sided, single-coated, and unsupported adhesive tape systems are REACH compliant. The company's products are supported by advanced engineering capabilities, guiding engineers to more than 200 different product constructions in over 50 different adhesive systems while meeting the most demanding industrial and consumer applications.
About Adchem Corporation
Adchem Corporation is ISO 9001-2008 certified with an A2LA accredited laboratory complying with ISO 17025. The 50 year old company engineers and manufactures pressure-sensitive adhesive tape systems, including double-sided papers, films, tissues, foams and fabrics; transfer tapes; one-side coated products and other custom-coated specialty products. 100% solids adhesives, solvent and water based acrylics and rubber adhesives are used in a variety of industries, including automotive, construction, electronics, graphic arts, medical, transportation and general industrial tape applications. Adchem is certified under the newly established Responsible Tape Manufacturer (RTM) program of the Pressure Sensitive Tape Council (PSTC). For more information visit us at http://www.adchem.com.
For More information contact:
Joseph Pufahl
Adchem Corporation
1852 Old Country road
Riverhead, NY 11901
631-727-6000
jpufahl(at)adchem(dot)com
About Rogers Corporation
Rogers Corporation (NYSE:ROG) is a global technology leader in specialty materials and components for consumer electronics, power electronics, mass transit, clean technology, and telecommunications infrastructure. With more than 180 years of materials science and engineering experience, Rogers provides product designers with solutions to help them power, protect and connect our world with greater reliability, efficiency and performance.
Rogers three core businesses include Power Electronics Solutions for high-voltage rail traction, hybrid-electric vehicles, wind and solar power conversion; High Performance Foams for cushioning, sealing and impact protection in tablets and smart phones, aircraft, rail and automotive interiors, sporting goods, apparel and gear; and Printed Circuit Materials for wireless infrastructure, power amplifiers, smart antennas, and radar systems for automotive and defense applications. Headquartered in Connecticut (USA), Rogers operates manufacturing facilities in the United States, China, Germany, Belgium, and South Korea, with joint ventures and sales offices worldwide. For more information, visit http://www.rogerscorp.com.
Kelly Nelson
Sr. Product Specialist, General Industrial Markets
Rogers Corporation
High Performance Foams
Office: 1.860.928.8915
kelly.nelson(at)rogerscorp(dot)com
http://www.rogerscorp.com
The world runs better with Rogers.®
For additional information please contact Adchem Corporation, 1852 Old Country Road, Riverhead, NY 11901 Phone: (631) 727-6000 Fax: (631) 727-6010 or our website at http://www.adchem.com.