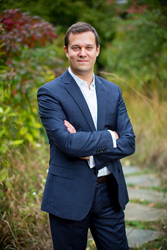 Arlington, VA (PRWEB) March 11, 2014
The Nature Consevancy is pleased to announce that The World Economic Forum (WEF) has named Giulio Boccaletti, the organization's managing director for Global Water, as one of its 2014 Young Global Leaders.
The WEF each year recognizes up to 200 outstanding young leaders from around the world for their professional accomplishments, commitment to society and potential to contribute to shaping the future of the world.
For 2014, the Forum selected 214 Young Global Leaders from 66 countries and all sectors of society (including business, non-governmental organizations, social entrepreneurs, politics and government, arts and culture, and opinion and media).
"Being named a Young Global Leader is a great honor for Giulio. We're delighted that the WEF is recognizing his contributions and accomplishments as a scientist and expert on economic and environmental sustainability," said Mark R. Tercek, president and CEO of The Nature Conservancy.
Boccaletti leads the Conservancy Global Water program, which is the world's largest team of freshwater scientists, policy experts, economists and on-the-ground conservation practitioners. Together, Boccaletti and his team are working around the world to identify, test and deploy innovative, large-scale strategies that demonstrate how investments in nature and natural systems will enable us to secure and manage the water we need to prosper.
"Young Global Leaders are not just exceptional people in their own right: they are leaders that already have a track record in improving the state of the world," said David Aikman, Managing Director and Head of the New Champions at the World Economic Forum. "We welcome the Class of 2014 into our community and look forward to collectively engaging them to deliver change of genuine global significance.
YGLs are integrated into events organized by the World Economic Forum, and organize events of their own, as well as launch and lead their own innovative initiatives and task forces.
All of the YGL nominations go through a rigorous selection process involving internal vetting, independent evaluation by Heidrick & Struggles and finally screening by a selection Committee headed by Her Majesty Queen Rania Al Abdullah of the Hashemite Kingdom of Jordan. Candidates are selected based on their proven track record of professional accomplishments, breadth of their expertise, commitment to society and their ability to overcome adversity, among other criteria.
###
The Nature Conservancy is a leading conservation organization working around the world to protect ecologically important lands and waters for nature and people. The Conservancy and its more than 1 million members have protected nearly 120 million acres worldwide. Visit The Nature Conservancy on the Web at http://www.nature.org.