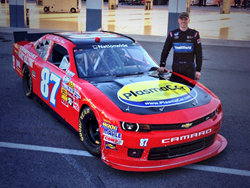 Ottawa, ON (PRWEB) March 12, 2014
PlaSmart Inc. is proud to announce a new partnership with NASCAR's rising star Daryl Harr ( No.87), Kansas City Chiefs Hall of Famer Nick Lowery, and JD Motorsports, to make a major statement against bullying.
Harr said at this weekend's NASCAR event: "Nick and I plan to kick off a program to inspire school kids at every NASCAR event I'm at with a message of what happens to one of us, happens to us all."
Along with Lowery, Daryl Harr will be visiting schools all over the country, spreading their anti-bullying message and urging students to stand up for those who find themselves marginalized, sometimes lost in the shadows of schools. Added Harr: "Nick and I are making a statement, sticking a flag in the sand and saying we can all do more to end bullying in schools. We are in this to win, and I want to be the NASCAR underdog that fights for the underdogs in schools; we've already had the pleasure of PlasmaCar [ and PlaSmart] join our cause in the fight against bullying!"
For more information for NASCAR's Champions Against Bullying, please visit http://www.nickloweryfoundation.org or http://www.nicklowery.org.
About Daryl Harr: Daryl was born in St. Albert, Alberta and is a rising star on the NASCAR circuit. He travels throughout the USA entertaining thousands of race fans, and has recently begun speaking out against school bullying.
About Nick Lowery: An NFL Hall of Fame nominee for the Kansas City Chiefs, Nick knows all about making a difference: he helped launch the Points of Light Foundation and Americorps for Presidents H.W. Bush and Bill Clinton, and is the recipient of the NFL Player's foremost Humanitarian Award, the Justice Bryon Whizzer White award.
About PlaSmart: PlaSmart Inc. is a global toy distributor that seeks out interesting, one-of-a-kind toys that meet its 'smart and simple' philosophy and avoids toys that are difficult to understand or operate. PlaSmart's products include multiple award-winning toys and games, including the PlasmaCar™, a mechanical marvel powered by the cleanest and most inexhaustible energy source - kid power. PlaSmart's products are available on five continents and in more than 60 countries. For further information, visit http://www.plasmarttoys.com.