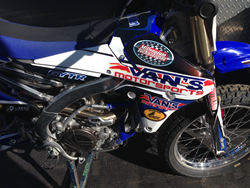 Plymouth,WI (PRWEB) March 12, 2014
After sustaining injuries that kept him out of most of the 2013 season, AMA Pro Flat Track racer Sammy Halbert will be back in 2014 starting first with the season opening double-header at the Daytona International Speedway taking place March 13-14.
Halbert will be participating aboard his Yamaha/Millennium Technologies supported YZ450F for the Speedway's events whose tracks have accounted for a fourth of the former AMA Pro Flat Track champion's Grand National wins.
Millennium Technologies is the recognized leader in high-tech powersports engine machining, including cylinder and cylinder head services, and is proud to sponsor Sammy Halbert's 2014 season. To learn more about Halbert, visit http://www.sammyhalbert.com.
To learn more about Millennium Technologies machining services, visit http://www.mt-llc.com.