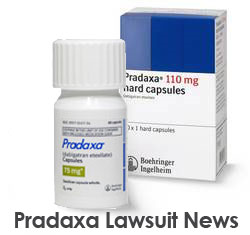 If you or someone you love has experienced Pradaxa bleeding or hemorrhaging due to Pradaxa visit yourlegalhelp.com, or call 1-800-399-0795 for a free legal consultation
Columbus, OH (PRWEB) March 10, 2014
As Pradaxa Lawsuits continue to be filed (MDL 2385), lawyers at Wright & Schulte LLC are reviewing the findings of a recently released study found the blood thinner Pradaxa to be the most complained about prescription drug in the United States. This Pradaxa study was conducted by the Institute for Safe Medication Practices (ISMP), a non-profit organization that closely monitors adverse effects reports filed with the FDA. According to the ISMP study, the FDA received more complaints about Pradaxa than it did about any other prescription medication in 2011 and 2012. [wxyz.com/web/wxyz/money/consumer/pradaxa-lawsuit, February 25, 2014]
According to the ISMP's findings, since Pradaxa received FDA approval in 2010, the FDA has received 1,158 reports of Pradaxa deaths and 12,494 reports of serious Pradaxa injuries in the U.S. These 13,652 adverse Pradaxa reports officially make Pradaxa the most complained about prescription medication in the U.S., according to the ISMP.
The study does not come as a surprise to Wright & Schulte LLC after recent news from Reuters has reported the number of Pradaxa lawsuits filed against Boehringer has reached over 2,000. The Pradaxa litigation is currently in U.S. courts and most complaint allege the anti-coagulant drug caused patients to suffer severe internal bleeding and hemorrhaging.
According to Reuters, Pradaxa has been prescribed to patients living with atrial fibrillation and was intended to decrease these patients' risk of blood clots and stroke, but further reports people using Pradaxa suffering severe hemorrhaging after taking Pradaxa have been the basis of not only thousands of lawsuits filed against Boehringer but also of thousands of adverse effects reports filed with the FDA, according to Reuters.
[uk.reuters.com/article/2014/02/13/us-boehringer-pradaxa-idUKBREA1C0PW20140213, February 13, 2014]
According to court documents, in February 2014 a court order was issued in the ongoing Pradaxa multidistrict litigation (MDL 2385) in the U.S. District Court, Southern District of Illinois to make some internal Boehringer documents a central focus of the litigation. These documents, which included some internal company emails, allegedly revealed that Boehringer knew that conducting regular blood tests on patients taking Pradaxa could reduce the risk of bleeding but that the company chose not to highlight this fact because it was afraid that it would hurt drug sales.
In a recent ABC 7 Detroit article, Tom Moore, a senior scientist for the ISMP, has stated, "there was an opportunity to make Pradaxa safer; instead, it appears the commercial instincts to sell more drugs won out."
[wxyz.com/web/wxyz/money/consumer/pradaxa-lawsuit, February 2014]
Wright & Schulte, LLC focuses on defending the rights of those who have suffered severe injuries after using dangerous medications. Our skilled attorneys are experienced at successfully going up against large corporations and are currently investigating claims on behalf of people who suffered serious Pradaxa complications, like severe hemorrhaging. We encourage those who believe that they have been injured due to the use of Pradaxa to speak with our knowledgeable lawyers by visiting yourlegalhelp.com or by calling 1-800-399-0795.
About Wright & Schulte LLC
Wright & Schulte LLC, an experienced personal injury firm, is dedicated to the belief that America's legal system should work for the people. Every day, the attorneys of Wright & Schulte LLC stand up for the rights of people who have been injured or wronged and fight tirelessly to ensure that even the world's most powerful corporations take responsibility for their actions. If you're looking for a law firm that will guarantee the aggressive and personal representation you deserve, please do not hesitate to contact Wright & Schulte LLC today. Free case evaluations are available through yourlegalhelp.com or by calling 1-800-399-0795.
Contact:
Wright & Schulte LLC
1-800-399-0795
http://www.yourlegalhelp.com