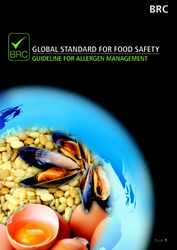 At the heart of the BRC Global Standards certification programme is a strong commitment to share best practice to help improve food safety
London, U.K. (PRWEB) March 18, 2014
According to the World Health Organization (WHO), food allergens appear to be on the rise in all industrial nations and have therefore become a major health issue. The Centers for Disease Control and Prevention (CDC) conducted a study in 2008 that showed an 18 percent increase in the amount of children in the US with food allergies.
The management of allergens remains a significant challenge for the food industry. BRC's new Best Practices Guideline has been designed to provide a further explanation of the allergen management requirements of the BRC Global Standard for Food Safety. This guideline will help individuals and companies develop robust allergen management systems and implement procedures that adequately meet the requirements of the BRC Standard.
The new guideline focuses on five key themes:
•Significance – the significance of any process, activity or ingredient should be evaluated by accurate risk assessments to determine the control or action required
•Suppliers – understanding the materials that arrive on site is vital to allergen management
•Separation – the segregation of allergens is a key allergen management control
•Scheduling – planning activities to reduce the risk of cross-contamination is crucial to allergen management
•Sanitation – cleaning controls to remove or reduce the risks of cross-contamination should be standard practice
The new Best Practices Guideline for Allergens can be found at http://www.brcbookshop.com.
Media Contacts:
BRC Press Office +44 (0)20 7854 8924 / +44 (0)7921 605544
NOTES TO EDITOR
About the BRC's Global Standards
BRC Global Standards is the world's largest provider of safety and quality standards' programs for food manufacture, packaging, storage and distribution. The standards are generated with the help of technical specialists, retailers, manufacturers and certification bodies from around the world, ensuring that all standards are based on practicality, rigour and clarity.
The BRC Global Standards' certification scheme offers comprehensive support to help new and established businesses achieve and maintain their quality and safety aims.
For more information, please visit the BRC Global Standards website.
####