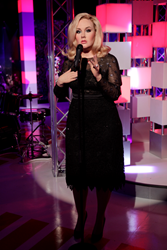 "We're thrilled to host Adele's wax figure in New York and offer guests the opportunity to interact with her figure stateside for the first time ever," said Bret Pidgeon, Regional GM
New York, NY (PRWEB) March 10, 2014
The wax figure of Grammy Award-winning superstar Adele has arrived at Madame Tussauds New York for its first-ever visit to the United States, and will remain at the attraction until April 20, 2014 before heading back to Madame Tussauds Amsterdam. The popular wax figure resides in Madame Tussauds New York's brand new, state-of-the-art, interactive music experience – new home to the wax figures of today's hottest music icons such as Lady Gaga, Justin Timberlake, Rihanna, Beyoncé and Carrie Underwood.
"Adele's zealous fan-base stretches far beyond Europe's borders, so we're thrilled to host her wax figure in New York and offer guests the opportunity to interact with her figure stateside for the first time ever," said Bret Pidgeon, Regional General Manager, Madame Tussauds New York. "Adele's talent makes her an ideal figure to headline the opening of our dazzling new music experience and we look forward to seeing guests interact with all that the space has to offer."
Adele Laurie Blue Adkins, better known as Adele, is a Billboard record-breaking, two-time Grammy-Award winning and Academy Award-winning singer, songwriter and musician.
Madame Tussauds New York's new Music Room features a number of interactive elements such as live drums, an electric guitar, microphone, and spotlights. A high-tech lighting feature will recognize performers' dance moves, broadcasting their image on a video screen.
About Madame Tussauds New York
Madame Tussauds New York is the interactive "must do" attraction, providing guests with unique opportunities to create memories with some of the world's biggest icons. Prominently located in the heart of Times Square, Madame Tussauds New York is open 365 days a year at 10 a.m. Please follow Madame Tussauds New York on Twitter (@NYCWAX), Facebook (Facebook.com/NYCWAX) and Instagram (@NYCWAX). Visit http://www.madametussauds.com/newyork or call (212) 512-9600 or (866) 841-3505 for more information.