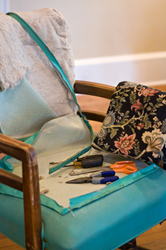 FabricSeen.com is turning to the public to look for innovative and creative projects using upholstery and drapery fabrics.
Los Angeles, CA (PRWEB) March 11, 2014
FabricSeen has announced the BeSeen! upholstery photo contest. The online luxury fabric retailer is turning to the public for innovative and creative projects using upholstery and drapery fabric to reupholster a family heirloom, revive a flea market find, design a new window treatment, create a brand new piece of furniture or transform an entire room. Contestants can enter by submitting their projects via the BeSeen! Upholstery Photo Contest entry form.
Monthly BeSeen! Upholstery Photo Contest winners will be selected beginning March 2014 by InsideSeen, LLC and will be awarded a $50 FabricSeen gift certificate and automatically become a finalist for the Grand Prize. Five additional finalists will be determined by popular vote.
The Grand Prize is a Miami Getaway to be awarded in July and may be taken any time before December 29, 2014. The trip includes a 3-night stay at the Trump International Beach Resort in Miami as well as a $300 airfare credit. The vacation package must be used before December 29, 2014. The Grand Prize winner will be selected by FabricSeen.
FabricSeen fabrics are culled from top-quality, design-center-showroom fabrics, which are available online at FabricSeen.com for a fraction of their designer price. FabricSeen partners with premiere wholesalers, selling their excess stock and discontinued designs at up to 85% off the original trade price.
Previously, only design professionals could purchase these fabrics at trade-only showrooms. Now FabricSeen offers these designer fabrics in an easy-to-use online platform to customers including interior designers, upholstery professionals, boutique design houses, and end users. Additionally, FabricSeen offers weekly curated fabric collections and provides individualized assistance to help customers with their upholstery and drapery selections. Additional savings can be had via periodic short-term Secret Sales, which can only be accessed by newsletter subscribers and Social Media followers, offering even deeper discounts on selected fabrics. There are hundreds of fabrics available at FabricSeen, and new fabrics are added regularly. On average, there are 20-40 yards of fabric available in each pattern; however, some patterns have upwards of 200 yards available for purchase.
FabricSeen customers have been satisfied with the quality of goods and customer service:
I am VERY pleased with the fabric and have gotten lots of compliments on my great taste! Thanks again for your great product and service! – Donna S., Cooperstown, New York
The fabric is beautiful, and I fell in love with it when I saw it on line, but the service was first class, and you were so kind and helpful. – Maggi H., Cape Coral, Florida
I have to tell you that I looked for over a year for the right fabric for that chair. I love crewel, but couldn't find anything in the right colors or design. I think I had more than 50 samples here, and my husband was tired of the whole thing and told me to make up my mind and get it over with. Then I found your website, and this fabric. I knew it was perfect when I ordered the sample, and when I saw the colors here, I knew it was worth the wait. – Molly J., Eagle River, Wisconsin
We love the fabric and the project turned out great. The upholsterer complimented the fabric several times when he dropped off the chairs. – Paxton B., Garden Grove, California
For more information:
View the BeSeen! Upholstery Photo Contest Entry Form
Read the InsideSeen Design Blog
View the FabricSeen Discount Designer Fabric Website.
Subscribe to the InsideSeen Newsletter