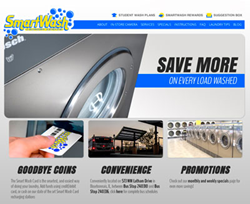 Marketing technology to match our laundry technology, brilliant!
Bourbonnais, IL (PRWEB) March 12, 2014
SmartWash Laundry Center features a laundry experience in Bourbonnais like no other including a super clean facility, safe environment, friendly staff and state-of-the-art washers and dryers. SmartWash is the only laundry facility in the area with a coinless payment system. They offer residential, self-service, wash & fold and delivery services as well as commercial services for fitness centers, salons, equestrian centers, medical offices and others. Open 24/7 for cardholders and staffed daily from 6:00a.m. to 9:00p.m., SmartWash provides every washing option available for every resident in the community.
The new website built by Chicago area marketing company, Idea Marketing Group, was built on the Wordpress platform with a blog and was optimized to provide washing solutions to those searching the internet to look for washing options in Bourbonnais and the surrounding areas. The website includes some distinctive features including a suggestion box which allows users to leave anonymous suggestions for SmartWash management, a laundry tips page providing handy list of tips for stain removal, FAQ page for questions commonly asked by customers of SmartWash, a specials page where SmartWash can publicize and promote their monthly and weekly specials as well as an in-store camera integration providing a safe tool for everyone to see what's going on inside SmartWash in real time.
From the admin side, the site was optimized for SEO and the blog is being managed by SmartWash to showcase and promote the latest happenings and specials at SmartWash. Their social media are easily accessed from the website. Take a look at the new site at http://www.smartwashlaundrycenter.com and don't forget to stop in while in the Bourbonnais area.
Idea Marketing Group, located just west of Chicago, offers web design, web development, and marketing services to clients nationwide. With additional specialties in branding, graphic design and marketing services. Idea draws from experienced, in-house talent paired with unmatched customer service at award-winning levels.