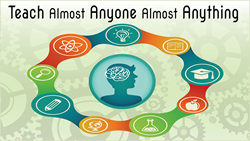 "The mediocre teacher tells. The good teacher explains. The superior teacher demonstrates. The great teacher inspires." - William Arthur Ward
San Diego, California (PRWEB) March 12, 2014
Learning-Dynamics provides professional learning development and consulting services to organizations. However, recognizing that it's not always practical (or in the budget) to call in professionals, the company is offering a beginner's crash course in the basic principles behind how to effectively transfer knowledge and skills. The course will be offered on Udemy—a popular marketplace for online courses. The Udemy platform currently offers over 8,000 courses, with over 2 million enrollments and 4,000 independent content creators. The techniques presented in the new course can be used by individuals outside the training and education field to assemble reasonable training materials independently.
The concepts discussed in the course originate with the Instructional Design discipline, which gained credibility as a systematic approach to training large numbers of military personnel during World War II, and went on to become the foundation of post-war industrial education. However, unlike many courses, which focus on theory, this particular course is designed to extract the main concepts that non-educators need to understand if they find they must teach something to other people.
Through a series of real-world examples, viewers of this course will learn to ask key questions about the readiness level of their audience and to determine exactly what they should know or be able to do at the conclusion of the course that they didn't know or couldn't do before. They will also come away with the ability to decide what type of delivery method is best for the content they are offering and how to break content down in to concrete learning goals and measurable learning objectives and tasks. In addition, the course provides a wide variety of Internet and downloadable resources to help a beginner assemble content.
As an introductory promotion, the first 100 users are offered a coupon for 40% off the cost of the course. Anyone who finds himself or herself in a situation where they need to train others and don't know where to start should consider viewing this course here: https://www.udemy.com/teach-almost-anyone-almost-anything/?couponCode=LDMARPROMO.
About Learning-Dynamics:
Learning-Dynamics specializes in merging technology and creativity to build learning solutions for 21st century organizations. Owner Karen Fields combines a uniquely focused academic background in education, visual communication, and organizational design with over 20 years of experience in human resources, talent management, and training development spanning multiple industries.