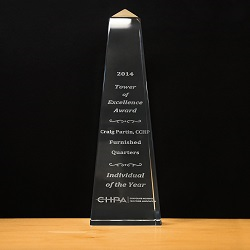 New York, New York (PRWEB) March 11, 2014
Furnished Quarters, the largest provider of temporary furnished apartments in New York City and Boston, today announced that Craig Partin, Vice President of Sales at Furnished Quarters, was awarded the "Tower of Excellence" Award for 2014 Individual of the Year from the Corporate Housing Providers Association (CHPA). The award was presented at CHPA's annual conference in New Orleans on February 26. Employees who work for a company with more than 300 corporate housing units—and who have demonstrated excellence within their company as well as service dedication and industry involvement—were eligible for the award.
Furnished Quarters additionally announced that Partin has received certification by the Employee Relocation Council (ERC) as a Global Mobility Specialist (GMS). The GMS designation signifies that a professional is specialized in global workforce mobility.
Partin's accreditation as a GMS makes him one of the few in the corporate housing industry who have been bestowed with a coveted trio of certifications. These certifications include the Certified Relocation Professional (CRP) designation by the ERC, and the Certified Corporate Housing Professional (CCHP) designation by the CHPA, as well as the GMS accreditation. The highly regarded CRP designation indicates that a professional is dedicated to the successful mobility of employee transferees, while the esteemed CCHP certification exemplifies strong competence and professionalism in the corporate housing industry.
"Craig Partin, CCHP focuses on building strong relationships within the industry and as such, is integral to the growth of Furnished Quarters," says Mary Ann Passi, CAE, CHPA CEO. "He works continually to advance the Furnished Quarters team members around him, his peers in the corporate housing industry, his supplier partners and the clients and guests he supports."
"Craig Partin's recent accolades are evidence that Furnished Quarters has the strongest talent and commitment in the corporate housing industry," said Steve Brown, CEO of Furnished Quarters. "We're thrilled that Craig's vast expertise as a temporary housing specialist has been recognized industrywide through multiple awards and certifications, showcasing how Furnished Quarters' professionals continue to stay on top of industry trends. He is now among only a handful of individuals who hold a grand slam of certifications in the corporate housing industry."
Partin has over 20 years of experience in the hospitality industry. In his role as VP of Sales at Furnished Quarters, he has overall responsibility for corporate revenue generation and growth, and leads a large sales team. Partin has also served on boards of directors for many industry-related organizations, including the North Texas Relocation Professionals, Bay Area Professionals in Relocation Management, and the New Jersey Relocation Council, among others.
About Furnished Quarters
Furnished Quarters is an independently owned and operated provider of stylishly designed and fully equipped temporary furnished housing rentals, both nationally and globally, and the largest provider of temporary furnished housing in New York City and Boston. Furnished Quarters also provides a diverse portfolio of temporary furnished apartments in New Jersey, White Plains, and Connecticut. Established in 1998, Furnished Quarters is a founding member of GO Furnished Housing Providers, a consortium of best-in-class temporary housing companies offering one-call access to apartments worldwide. For more information visit http://www.furnishedquarters.com.