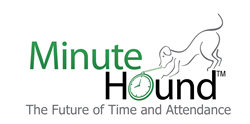 MinuteHound's light, compact, and durable scanner makes it a perfect fit for any work environment.
New York, NY (PRWEB) March 19, 2014
There is absolutely nothing more frustrating than time theft, unless it is the time clock not working at all. If a time clock should fall and break, there will be a period of time where it will be able to be used. This will require employees to clock their hours manually, which has the potential to result in a myriad of errors, as well as an increase in time theft. In order to ensure that this huge loss of productivity and money does not occur, it is critical to purchase a biometric time clock that is small, light, and durable.
What is a Biometric Time Clock?
A biometric time clock is a clock that uses something on a person's body that cannot physically be changed. Normal time clocks require users to either have a punch card that is marked with the time that he or she clocks in and out, or an employee number that simply needs to be entered. Both of these methods of recording employee time are very easy to circumvent and perform dishonestly. An employee can punch a card for another employee at the correct time should he or she be running late, or enter the employee number. A biometric time clock removes this particular issue because it uses fingerprints, rather than numbers or cards. Employee fingerprints cannot be shared or disclosed and, as a result, makes time theft much more difficult. MinuteHound's time clocks will send notifications to the employer should an employee arrive at work at a time that is not in the schedule, which will allow for better management of the time that is being paid for and the work that is being completed.
Why is it Important for a Time Clock to be Small and Lightweight?
It is very important for a time clock to be small and lightweight because it will allow the clock to be moved much more easily. Businesses do not always stay in the same location. Nor will they always have the same setup. As businesses expand, it might be necessary to move to a larger location or change the configuration of where employees clock in and out. If a time clock is not small enough or light enough to be able to be easily moved, then it will be an obstacle to making sure that the business has a set up that is as effective as possible.
Why is it Important for a Time Clock to be Durable?
The importance of the time clock being durable is because accidents happen. If the time clock is being moved from one location to another, it could be dropped and suffer damage, or someone could simply knock it off the wall. This could possibly result in damage should the clock not be durable enough to survive the fall. If the clock takes damage, then it will not work as effectively and will, as a result, cause the company to decrease in productivity since all of the employee data will need to be entered by hand.
MinuteHound Contact Information
Website: http://www.MinuteHound.com
Email: info(at)MinuteHound(dot)com
Phone: (800) 351-7237