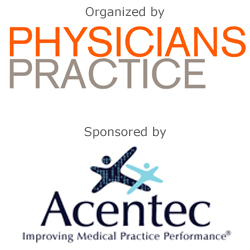 (PRWEB) March 11, 2014
It seems not a day goes by without a news item about a medical practice or hospital having to pay millions and notify its numerous patients about public exposure of protected health information (PHI).
With changes to the HIPAA Omnibus Rule taking effect last year, the directive for medical practices to ensure the privacy of their patient data is coming under greater scrutiny by HHS' Office of Civil Rights.
Space for this free event is limited and registration is required. To register, click here. Please note that all registration fields must be filled in to complete registration. Only a limited amount of space left.
This webinar is being hosted by Physician's Practice and sponsored by Acentec's HIPAA Security Suite. HIPAA Security Suite saves you time and money with professional results and meaningful use-approved HIPAA compliance. Acentec brings practices into compliance for less cost, less time, and less hassle. Acentec will also be offering attendees a complimentary network security scan that identifies information system vulnerabilities.
About our speakers:
Ericka L. Adler, JD, LLM, is a partner at the firm of Kamensky Rubinstein Hochman & Delott, LLP. Her primary practice focus is in the areas of regulatory and transactional healthcare law. Adler advises physicians and other providers regarding day-to-day practice management, physician contract matters, compliance, and other business issues.
Rachel V. Rose, JD, MBA, is a Houston-based attorney advising on federal and state compliance and areas of liability associated with a variety of healthcare legal and regulatory issues including: HIPAA, the HITECH Act, the False Claims Act, Medicare issues, women's health, as well as corporate and security regulations.