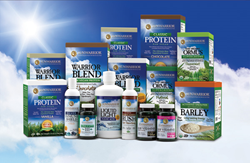 We're excited to see Sunwarrior thrive in Utah.
(PRWEB) March 12, 2014
Sunwarrior, a Southern Nevada company and a leading provider of plant-based protein powders and supplements, recently opened a new office in Washington, Utah, just outside St. George and Hurricane. They will continue to be based in Southern Nevada, with their headquarters in Overton, but have expanded into Utah with a large office space. They come to Utah with exciting goals for the future and many new employment opportunities.
"This new office essentially doubles the amount of people we can employ while opening up so many more possibilities for us as a company," said Denley Fowlke, cofounder of Sunwarrior. "We're excited to see Sunwarrior thrive in Utah, where Sunwarrior core values seem to resonate with the natural beauty of the area."
Sunwarrior mission is to illuminate mind, body, and planet. Many of their employees have commuted from the St. George area to Overton and Mesquite, so the expansion makes sense for the growing health-food company. Sunwarrior provides high quality, raw, plant-based proteins, greens, and supplements on an international scale. Their products include Warrior Blend, a fusion of plant proteins creating a complete and balanced amino acid profile; Classic Protein, a raw, sprouted, rice protein that is rich in enzymes and easy to digest; and Ormus Supergreens, a mix of greens grown in the rich volcanic soil of Southern Utah, making it high in trace minerals. Raw Activated Barley has also been a staple for years and Raw Vitamins are their most recent addition.
"We and our employees are very excited to have this presence in St. George," said Fowlke. "The new office is surrounded by beautiful walking trails, close to national and state parks, includes a gym, has stunning views, and allows for the growth and further expansion we're expecting to come. We're even thinking about adding a garden or greenhouse. We value our exceptional employees and are hoping to continue to attract and retain the very best."
About Sunwarrior
Sunwarrior is a small, growing health food company that's committed to making only the best plant-based foods and supplements while elevating humanity and preserving the planet. Their mission is clear—Illuminate Body, Mind, and Planet—and they strive to live those ideals in everything they do, from growing microgreens in their office to sourcing the finest ingredients from around the world when developing a new product.
Sunwarrior believes that plants provide the cleanest and most powerful foods, rich in antioxidants, vitamins, minerals, enzymes, and phytonutrients the world is just beginning to understand. Human bodies crave real food, especially in this age where heavy processing surrounds everything people eat, stripping out all the benefits and nutrition well before anyone has a chance to use them.
It's time to turn back to nature for what people are missing, to the wonderful plants that capture solar energy in a near magical way and then offer it to all so freely. Join Sunwarrior in their mission to renew ourselves, our minds, our bodies, and our world. Together we truly can transform the planet one warrior at a time.
Visit http://www.sunwarrior.com now to learn more about Sunwarrior.