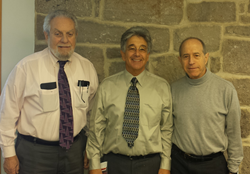 Abington, PA (PRWEB) March 11, 2014
North Penn Family Medicine has been providing medical care to the Lansdale and Chalfont communities since 1970. They specialize in continuing and comprehensive health care for the individual and family, serving eight-year-old to geriatric patients. They provide a full range of services including female health services (annual pap and pelvic exams), nebulizers for asthma attacks, joint injections, ear irrigations and immigration physicals.
As part of Abington Health Physicians, North Penn Family Medicine will have access to all of Abington Health's medical services and educational resources, including electronic medical records.
The board-certified physicians and advanced care professionals include:

Ron Frank, DO
Mark Sussman, DO
David Friedman, DO
Dolores Dwyer, CRNP
Vida LeMarie, CRNP
Two convenient locations:

2026 N. Broad Street, Lansdale, PA 19446
140 East Butler Avenue, Chalfont, PA 18914
For more information, please call 215-368-4434 or Abington Health's Physician Referral Service at 215-481-MEDI (6334).
About Abington Health Physicians
Abington Health Physicians is a network of more than 200 primary care physicians and specialists with convenient locations in Montgomery, Bucks and Philadelphia counties. For more information about Abington Health Physicians, please visit http://www.myahphysicians.org.
###