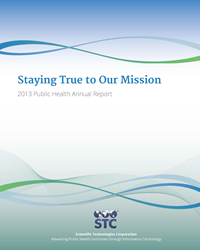 STC is a company that turns focused imagination into public health products and services," Michael Popovich, STC CEO.
Scottsdale, Arizona (PRWEB) March 10, 2014
Scientific Technologies Corporation (STC), entering its 26th year of providing public health information technology products and services, published its 2013 Public Health Annual Report that summarizes a year of innovation to stay ahead of the ever-changing demands of the Health Information Technology marketplace to enable better and more efficient health care and public health outcomes.
In 2013, STC supported almost a third of the country's statewide immunization information systems and worked with 65% of the immunization programs in the U.S. In the early 1990s, STC was one of the first adopters of the value of immunization registries and the data that could be used for decision support to augment clinical practice, targeting the reduction and impact of vaccine-preventable disease on children. With the support of physicians, health organizations, and policy and vaccine experts, STC's public health and software professionals led many of the early efforts and best practices to implement immunization information systems.
STC's efforts and activities the past year, as described in the Public Health Annual Report, included expanding into the provider and consumer areas of support and focusing on interoperability between providers, states, and retail health to increase data quality and improve outcomes. STC partnered with states to make nine well-received presentations at the American Immunization Registry Association 2013 IIS National Meeting. We initiated a successful experiment to improve flu vaccination rates in office and school settings. Many product innovations and enhancements were offered, including: development of a full-featured bi-directional interface to support state immunization programs and providers' immunization workflows; implementation of 2D barcode technology to facilitate documenting and managing vaccine information; rollout of an innovative data visualization and outcomes monitoring tool; redesign of product user interfaces for responsiveness to benefit end-users; and many additional product enhancements and new features to enable quick and efficient access to patient data.
Our efforts continue to grow — a primary goal of STC through the next decade is to increase the value of national health data assets.
STC envisions populations fully protected against vaccine-preventable diseases. We envision populations at risk to outbreaks and notifiable diseases are protected as a result of rapid responses due to the availability of real time information and accurate situational awareness. We envision that there is no impact on family health care because records and information are always available, even through disruption caused by natural disasters.
STC is a company that turns focused imagination into public health products and services. We turn expertise into health information and knowledge that empowers physicians, nurses, hospital caregivers, pharmacists, insurers, public health professionals and now the patient themselves.
Our community of health partners tells us, "If you provide timely and accurate information when we need it, we can provide the best care and empower individuals with improving their health." We strive to do this with every product and service.
Read STC's 2013 Public Health Annual Report: http://www.stchome.com/media/annual_reports/stc_annual_report_2013.pdf
About STC
STC's goal is to ensure healthy populations through partnership, expertise, and applied use of information technology. In the early 1990s, STC was one of the first adopters of the value of immunization registries and the data that could be used for decision support to augment clinical practice, targeting the reduction and impact of vaccine-preventable disease on children. With the support of physicians, organizations, and policy and vaccine experts, STC's public health and software professionals became the trusted authority that led many of the early efforts and best practices to implement statewide registries. The efforts continue today as over 250 million vaccine encounters are retained in the immunization registries of STC and their state public health partners. Increasing the value of these national health data assets is a primary goal of STC through the next decade. http://www.stchome.com