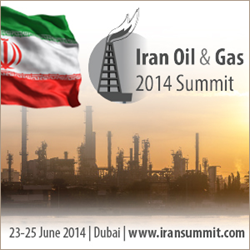 It's an IRN Summit!
London (PRWEB UK) 11 March 2014
The Islamic Republic of Iran, as the Founder Member of OPEC, holds the world's fourth-largest proven oil reserves and the world's second-largest natural gas reserves. Following an interim agreement with the European Union and the P5+1 (US, UK, France, China, Russia and Germany) last November, Iran's Oil Ministry has started negotiating with Western majors to prepare an outstanding return of international investments in the oil and gas promising landscape of Iran.
The Iran Oil & Gas 2014 Summit taking place in Dubai on 23rd -25th June will be a unique platform for international firms to establish contacts and build relationships in Iran. The Summit is organized in collaboration with the Iran Gas Institute, the Iranian Society of Petroleum Geology, the Iranian Society of Petroleum Engineering, the Scientific Society of Environmental Education and Sustainable Development and the Iranian Society for Surveying and Geomatics Engineering.
Furthermore, the region's hydrocarbon sector is garnering a great amount of attention lately as new deposits of crude oil and natural gas have been explored in Hormoz Qalavand, central Iran, and the Petroleum Contract system has been revised. With this in mind, the Summit will be the place where key players, decision makers and thought leaders from Iran and abroad discuss key issues to give a 360 degree view of the current status and ways to get involved in the region now or in the near future.
The three-day Summit represents a distinctive opportunity to gain exclusive industry insights through topical presentations, up-to-date case studies, interactive panel discussions as well as interactive workshops specifically designed for professionals internationally involved in the oil and gas industry.
For more information, please visit the website: http://www.iransummit.com.
For registration information and to receive the complete brochure, please contact Lola Bourget at LolaB(at)irn-international(dot)com.